CIM Scotland welcomes three new members to committee
The team at CIM Scotland are delighted to welcome three new members to its board of volunteers: Noreen Siddiqui, Emma Degnan and Rebecca Dawes.
Each of the three brings with them their own skills and experience, and are set to help the CIM Scotland committee as we look to engage more with the marketing community in Scotland over the coming months: with plans for both virtual and upcoming events for both future and current marketers.
Read on to meet each of the three new team members and discover what they will bring to the team.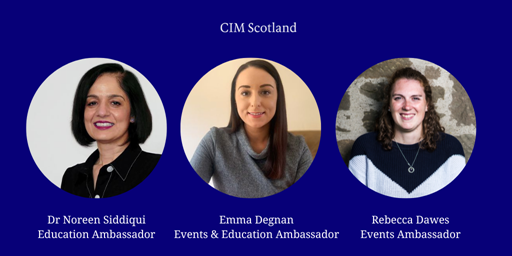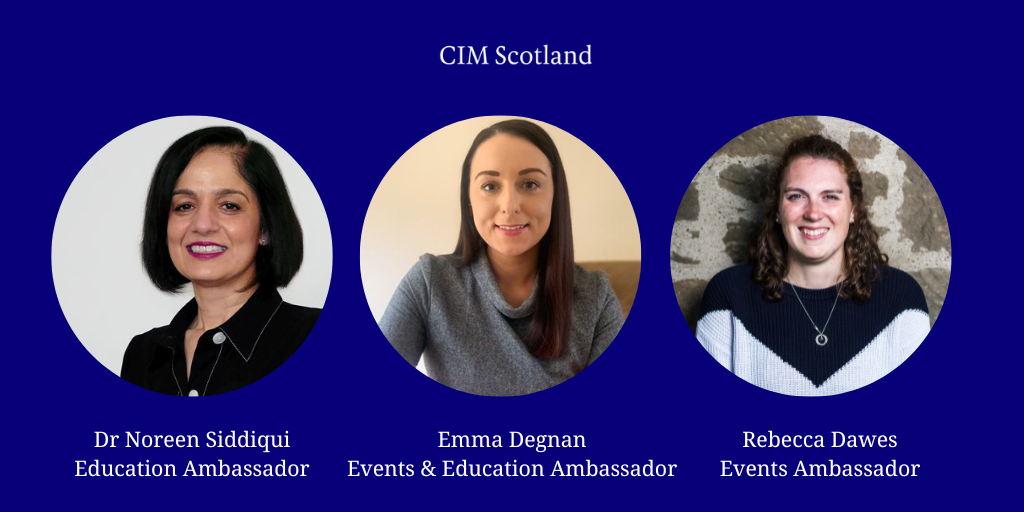 Emma Degnan – Events and Education Ambassador
A marketing manager with 10 years' experience, Emma is taking on a hybrid role as events and education ambassador. This role will see her engage with marketers at all ages and stages of their career: from helping advise marketing students on how to get started in their career, to helping plan events for those in the industry and looking to hone their skills.
Emma said: "My role is an interesting one which takes a hybrid approach across both events and education.  I am looking forward to joining such a fantastic team on the CIM board to help bring together the marketing community within Scotland.
"The CIM is something I would have found so useful when I was studying all those years ago.  From the network of the marketing community to the resources available to help with further learning, it would have been a great support upon entry into industry. I look forward to liaising with education partners and students of all levels to showcase the career-long benefits of the CIM.
"It is also an exciting time for events, as the face-to-face format begins to be reintroduced across the UK. The pandemic has been a great time for reflection for lots of things in our working lives, including events and the format they take place. Now is the perfect time to rethink how networking events operate and make positive changes for the future. Plus, it's not all about face-to-face events. I hope to contribute to the delivery of informative virtual webinars which will address some of the most relevant topics in today's industry."
Emma currently works as Marketing Manager at RBH, a hospitality management company, and we are sure her skills in dealing with projects of all sizes will come in immensely useful!
Rebecca Dawes – Events Ambassador
With a background in events management, Rebecca was the perfect choice to join our team as Events Ambassador!
Rebecca said: "Having worked in marketing, communications and events for over 15 years, I had this strong desire to want to secure a marketing qualification and achieve my Chartered status. I have attended a number of CIM webinars and online events over the last two years, and was incredibly impressed by the quality of the speakers, interaction with members, and the value I have received by taking time out to commit to CPD training.  With CIM regarded as one of, if not the most prestigious certifications for the sector, there was no doubt which qualification I wanted to undertake, and completed my CIM Diploma in Professional Marketing last year… I just didn't expect to enjoy it so much that I am now starting my second CIM qualification!"
In her role, Rebecca will work alongside events Vice Chair Gillian Williamson (and, of course, Emma!) to help plan and host both virtual and in-person events for marketers across Scotland. This will include online webinars (such as our previous webinar on imposter syndrome) as well as potential live events later in the year.
Rebecca added: "The support and training I have received as a member of CIM, both through my course and by attending events, has been invaluable in helping develop my own skills, experience and confidence within the sector. This is not only positively impacting me professionally but also personally. I was keen to volunteer to give something back to CIM and encourage others to join this amazing network that is welcoming, inclusive and essential for the future of any career in marketing and communications."
Currently Communications and Events Manager at Jane Craigie Marketing, Rebecca will bring her award-winning events skills to the CIM Scotland team, to help us create events that meet your needs.
Dr Noreen Siddiqui – Education Ambassador
Bringing over 20 years' experience as a marketing lecturer, Noreen joins the CIM Scotland team as education ambassador.
With a PhD in internet retailing, Noreen is an expert in both traditional and digital marketing, and will use her skills to help the CIM Scotland team understand how we can help marketing students across Scotland, particularly those in CIM accredited colleges and universities.
She said: "I started my career in retailing with Marks and Spencer as a graduate trainee. However, for the past 20 years I have been teaching marketing and reconnecting with the CIM was an excellent way for me to keep up to date with marketing practice. Over the past few years embedding skills and employability within marketing programmes has become essential as the digital element has shifted marketing into a different realm creating new challenges and opportunities. 
"My role as Education Ambassador provides me with many opportunities such as:
 Keeping me connected to marketing - not just what is happening but the new roles and responsibilities that are emerging - such as what are the roles within a marketing team?
Sharing with marketing and business students the importance of CIM for career progression. Encouraging students to get involved in marketing through the Marketing Clubs and entering 'The Pitch' competition.
Sharing with academics the services provided by CIM through accreditation and the impact it can have in developing course content and student engagement."
Noreen is currently a Senior Lecturer in marketing at the University of Glasgow, and will use her experience in education to help us craft our work with students: from discussing career options, to webinars and skill sharing.