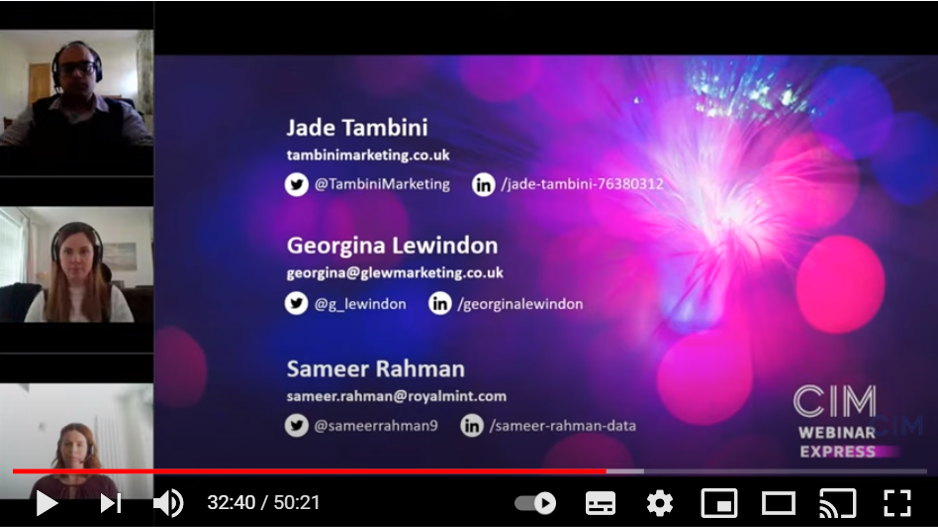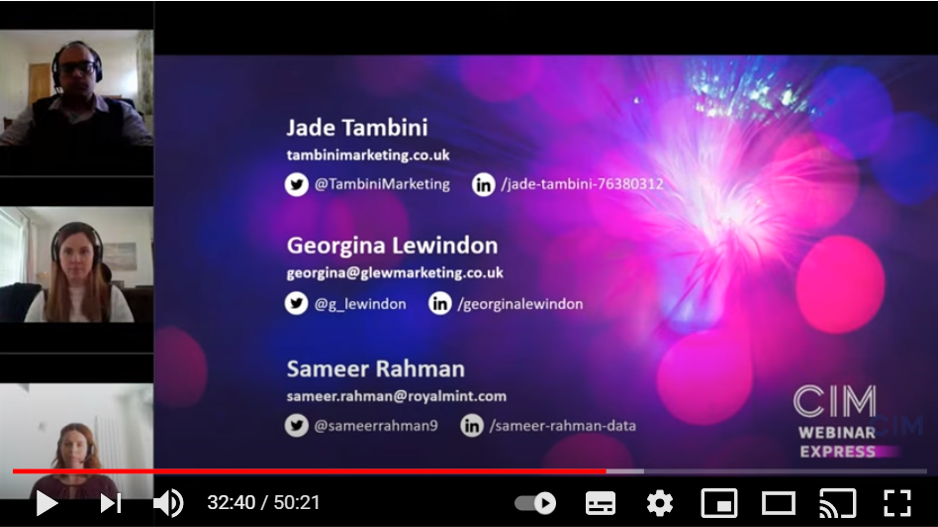 The past year has been a challenging one for marketers. Budget cuts and continued uncertainty have raised many questions and made it difficult for us to know where to focus often limited resources.
I was pleased to speak alongside Jade Tambini and Sameer Rahman to some 450 marketers on the CIM's latest Webinar Express, providing practical tips on how marketers can gear their marketing towards business recovery and growth in the coming year.
This blog outlines some of the key takeaway tips that marketers will find helpful in building clarity and confidence in 2021.
1. Positioning your brand
Jade Tambini, Strategic Marketing Consultant and Owner of Tambini Marketing kicked the session off with a talk on brand positioning and the role brand-building can play within wider marketing strategy.
"Great brand positioning is about clearly articulating to your target audience. 'Here's why you should buy from us not the other options available'," Jade explained: "There's a lot of talk in marketing about what channels we should use? Should we be advertising?... But we also want to be looking at how we stand out."
Know your difference
Jade outlined three things marketers need to look at in order to find that brand positioning 'sweet spot':
Your target audience: what makes them tick? What are their pain points? What problems they face that your brand can solve?

Your competitors: their strengths and weaknesses in comparison to yours.

Your own brand: what are your customers' needs and how can your business meet them?
Depending on your industry, it can be challenging to find key differentiators. But even if what you're offering is very similar to your competitors, you can set yourself apart by articulating it better and simply communicating how you can make your customer's life easier over and above the other options.
Commit to it
Once you've got your brand positioning in order it needs to be linked to a broader marketing strategy. But this is where marketers often stumble with asking for investment and justifying return, said Jade:
"Brand building can be a long process; we're complex beings, we have many pain points we need to overcome. To have a great brand strategy we need to constantly reiterate, repeat and get our message in front of that audience."
One of the most effective ways to secure that commitment is to learn to talk the language of finance directors. Jade cited research by Paragraph LLC which found that brands with strong reputations offer 31% higher shareholder return, while companies with engaged employees profit three times faster than competitors.
Don't be too mechanical
Jade outlined how, often, companies focus too much on channel strategy and advertising strategy:
"I think it's a symptom of how scientific marketing has become - which is no bad thing. But if we're being pressured by finance teams as to what return on investment we're getting on our marketing, we need to look behind the data to see what behaviours, what attitudes we are helping to change."
Otherwise, says Jade, we're literally mechanics looking at the science rather than the actual human at the end of our communications.
Jade left us with these few parting tips to help focus marketing on recovery and growth:
Develop your brand positioning and narrative which clearly articulates your point of difference and consider creative execution: imagery, messaging; how it will look.

Define your promise and your culture – what you actually deliver for the customer in a realistic way that employees can get on board with.

Project your personas: Ask your customers what they care about, what problems they have. Then directly address that in your marketing.

Ensure consistency of message. Don't be afraid to repeat, recycle, repurpose.

Organise and design and content pieces in line with the buyer journey and what's relevant at each stage of that journey.

Help and sell: help at the start and then sell at the end.

Learn to talk in financial terms so that, when you're challenged by your board, you're ready to speak their lingo.
Setting the scene for my section on strategy, objective and budget setting, Jade concluded with a quote from the Harvard Business Review:
'Companies that take a scalpel rather than a cleaver to the marketing budget, and adjust their strategies in response to customer needs, are more likely to flourish both during and after a recession.' 
2. Building your strategy
Often in crises, marketing budgets are the first thing to go; it's difficult to justify spend if you're not seeing substantial profit. Gartner found that 44% of CMOs faced mid-year budget cuts in 2020. But the reality is that you're unlikely to see profit if you're not visible.
Drawing on the Boston Matrix framework, a tool I often use to support Glew Marketing clients, I outlined how marketers can analyse their business' current product or service portfolio to understand where to focus. If you have a service (let's call is service C) which is giving little return and draining resources, it can be easier to justify moving some investment away from that into 'Service B' which is driving profit. With the security of a balanced portfolio, you reduce the risk of introducing a new 'Service D' and can channel some investment towards that. While this model isn't a catch-all, it can be helpful for making decisions about how to apportion your focus and budget.
Maintain your investment
Many business leaders are reluctant to spend on marketing right now, but maintaining investment is vital if you want to maintain visibility and clients. As a general guide, if you're introducing new products or looking to scale aggressively, you should look at a marketing budget somewhere between 12-20% of projected revenue. If you're more established, it's likely you already have a client base and processes in place, so 5-8% of revenue is a good range to aim for.
Of course, the most effective method is not an arbitrary figure, but an 'objective-task' one based on what you need to do to achieve your objectives. To define those objectives, you need to start with your business goals.
Say you want to turn over £100k in the next year. Through your portfolio analysis you've identified that £30k of that will need to come from new business.  This is your marketing objective; the sales objective is then to convert 10 new clients based on average expected value of £3k. Your communication objectives then become how many enquiries you anticipate needing – say 100 based on a 1 in 10 conversion rate, and what audience you need to reach to get those enquiries, say 500.
Breaking your objectives down in this way helps you understand the volume of activity needed, which in turn helps you determine which tactics are going to be feasible.
Segment on needs
Traditional segmentation, where clients are segmented based primarily on demographic and firmographic characteristics, is not great for understanding the needs driving people to choose certain services over others. Maria Martinez says 'being truly customer-centric means having a deep understanding of your customers' unmet needs'.  Many businesses assume that employees intuitively understand these needs, but with remote working it's difficult to rely on that shared understanding.
Now is a great time to revisit or develop segments according to distinct sets of needs. You can draw on those firmographics and demographics to make them identifiable, but by starting with needs you can:
Better align your services better to meet those needs
More easily make strategic decisions around pricing, promotion, engagement and so on
Develop a more balanced mix of messaging – while avoiding inadvertent discrimination
Lay it out in financial terms
Using the figures from your objectives, you can assign a simple value to each new prospect and lead based on estimated or expected conversion rates (see funnel diagram below).
It won't be completely scientific and you'll need to take in to account the cost of outsourcing, design and software etc. But it's an effective way to demonstrate the value of each tactic, justify and adjust investment in those tactics, and keep track of the core KPIs.
You can also assign a value to a loyal client to reinforce the importance of investment in retention.
Ultimately, laying it out in financial terms can help you can make a more persuasive business case to have your marketing budget increased. And at the very least it can help to convince those setting the budget that rather than needing 'revenue for marketing', they need 'marketing for revenue'. 
3. Maximising data insights
Continuing the discussion on segmentation, Sameer Rahman, Director of Insight at the Royal Mint, explained that data analytics is where we as marketers can really come to the fore.
Raise marketing's role
Marketers can derive insights from data to drive new product or service development, even new business ventures, he said.
"I want all of us, as marketers, to stand above and beyond the business leadership – we see marketing in a very tactical way, understandably so - marketing has a role to play at every level. But we are also the ones who can identify new business opportunities."
Expand your use of data
Drawing on the example of Uber, Sameer said marketers need to realise how important data has become, not just in terms of marketing performance, but for new products and businesses:
"Uber's business model is based on one data set: Google Maps. If you take that one data set away that multi-billion pound would not exist in the way it currently does. That data is not even owned by Uber; it's data we provide to Google."
SMEs and B2B companies often find data daunting and feel they don't have the skills, capacity or technology to manage it well but, said Sameer, small, quality data is much more important: 
"As a friend of mine says: 'a governed small data puddle is more important than a data storm'. The country's Covid-19 response strategy has been led by free data sources, which proves you don't need to pay for good data.; the same resources are available freely to every company."
The 'data inflection point' comes by starting with market data, then looking at internal trends, and consumer trends, and identifying a market gap. Sameer gave the example of buy now, pay later company Klarna; since the 2007 financial crash, credit has been a difficult market. But pre-pandemic, government surveys showed consumers were still open to buying.  They just didn't have the money and they didn't want to pay interest on loans. Those insights opened up a huge market gap for Klarna.
Link your KPIs
How we measure KPIs has to be understandable, useful and linked to business goals, Sameer explained:
"Most organisations, measure campaign measurements (social, email etc.) and executive dashboard (profitability, revenue etc) – but there is no connection between the two. What we need to do is move from 'vanity' metrics to 'sanity'."
Vanity metrics include reach: how many people saw your ad – and this, said Sameer is something most marketers are great at. The bit that's often missing is the measure of influence and engagement: 'what did people think of it? What attitudes did it change?' Surveys can be a useful way to measure this. Sanity metrics then cover the actions action people took as a result. The ones where vanity converts to sanity, explained Sameer– and many free CRM tools offer the reporting facility to do this:
"Whenever we present reach and frequency, we need to present the influence and engagement, that mindset change, before linking it back to what people actually did."
If you'd like to find out more about how to put these tips into practice, please see the full webinar and Q&A recording on the CIM website. 
Author: Georgina Lewindon