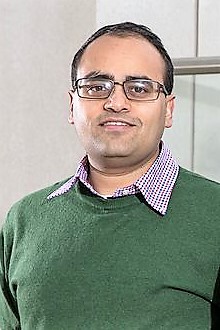 Message from the new Chair CIM Wales Regional Board , Sameer Rahman
I am tremendously excited and overwhelmed to take on the Chairman's role during a very exciting phase at CIM. It is a really interesting time for CIM in Wales and the UK as we undergo restructure of the regional teams to make them more effective in order to achieve CIM's corporate goals and regional objectives.
Firstly, I would like to thank the outgoing Chairman, Jade Tambini. Jade has given eight years of service to CIM Wales and I would like to thank Jade for her tremendous contribution. During my time working with Jade, I have learnt a lot from her. Her passion, organisation skills and marketing knowledge is second to none and I wish her the very best in her new venture. Jade will continue to be involved and provide advice to the regioanl Board and in her own words could 'never completely disassociate herself from CIM'.
I have been a part of the CIM Wales Board for almost three years now and have been supporting Jade in the Vice Chairman capacity for the last two years. During this time, I have been actively involved in organising and speaking at events, establishing partnerships, judging awards, mentoring future marketers, setting the strategy and action plan for CIM in Wales and championing the profession in Wales. My association with CIM has been as a student, volunteer, speaker, mentor, Wales Board Member, Vice Chair and now Chair.
We will be moving at pace in the next few weeks; my task along with the CIM Network Manager, Ceri Rowland, will be to recruit a strong operating Board to drive the mission and vision of CIM forwards. My new regional team will be focused and will be working tirelessly on growing the marketing community in Wales. The regional Board will consist of senior marketers and practitioners who are specialists in different fields of marketing allowing the board to help develop and mentor marketer's careers. We will also ensure that the team is representative of the geography (North, South and Mid-Wales), industry sector (especially public sector and SMEs) and different marketing disciplines, so that it is well suited to serve the needs of marketers in Wales. We will also look to develop partnerships with other reputed chartered bodies and professional associations.
We are now actively recruiting to fill Vice Chair roles and Ambassador positions to support the Vice Chairs and their areas of focus. For more details about each role, a role profile and how to apply please click here.
Despite the recruitment and the restructure of the Board, I am conscious that we will still be a relatively small group of people and in order to grow and support the marketing community in Wales we will be reliant on a hard-working wider volunteer group. So, please do make contact if you have the passion and desire to help , for example supporting a one-off project or event , but don't want to commit to a Board position. We are also looking to give junior marketers and students studying a marketing discipline an opportunity to develop their careers by involving them in project teams. So, if you are interested in learning more and getting involved with the CIM team in Wales please read about the formal Board opportunities here or contact us here. There are volunteering opportunities at all levels.
Once, Ceri and I have recruited the team, we will develop the operating plan for Wales which will include the Events calendar. So, please bear with us till we undergo the exercise of getting the new team and putting the operating plan together. This might mean that some of the regular events we have been conducting in the past few years might not happen this year or are delayed but I promise you that it will be worth the wait.
Together, let's champion the marketing profession and raise the credibility of the marketing function in Wales. I look forward to meeting some of you soon.