What advice would you give to marketers who are facing into the new normal?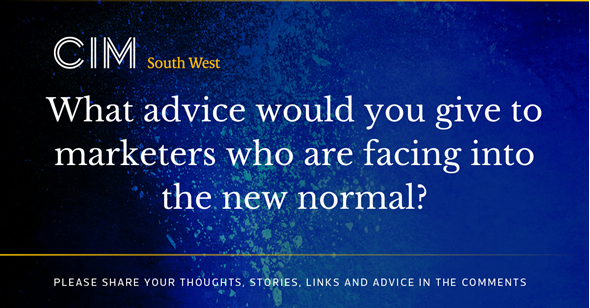 Recently we asked South West Board members to think about the advice they would give to marketers who are facing into the new normal – read what they said. We then decided to ask our members what they thought.
As part of our series of 'Discussion Topics' that we post on our CIM South West Community Group on Linkedin inviting members to share their thoughts and comments we asked What advice would you give to marketers who are facing into the new normal? and this is what they said...

Emma Charlton
It's definitely about listening to your customer and solving their problems with smart solutions - adapt and change

Jane Bromley
So my advice (thoughts rather) are going to be a bit different.  For years I've talked to businesses about how to increase revenue and profit by by becoming more customer centric- with excellent success. 
During confinement I ended up stuck in France. (Long story). They locked us down hard. Although I hated feeling trapped, I noticed some real upsides: so peaceful; people being able to pause between doing tasks; people having time for others; the animals/ birds were clearly more at ease; the skies were beautifully clear. I'd guess you might have noticed other things too. It reminded me of the 70s when life simply moved more slowly.   
So now I'm talking on Zoom etc to my friends in the UK. They're saying things like "3 days back at work and all the stress is back." And, "I just don't want to go back to how it was." 
So, we are marketers. We have a lot of power to influence. 
Are we going to remain focused just on growth and profit?
Or, will we use our skills to help to make the new normal a less frantic, kinder place, where staff enjoy their days; where both staff and customers have time to bond together, seeing the humanity in each other; and where businesses look for a way to thrive in a way that everyone feels they have room to breath and to feel good. 
In other words - what are the questions we can ask ourselves, our bosses and our colleagues so that we can gain from everything we've learnt in the last 4 plus months? 

Mark Baines
Based on our own experience as an agency, focus on 'Inbound Marketing' through SEO and social media. They're the only ways people are prepared to buy things at the moment. Hopefully it will change over time, but not until we find a cure for Covid, sadly.
I think that more than ever your customers, employees and other stakeholders are interested in "what you stand for" as much as "what you do". Marketing should be communicating the beauty within a business not trying to hide the madness within! Having something valuable to offer your community as well as shareholders and customers is key.

John Dalgarno
Customers/clients are facing a range of real life challenges, from survival, job security, uncertainty, increased stress etc. For some they have found new found opportunities and demand. I think we need to look at how we can HELP to start with. Provide them with a service/product they need now and that is affordable. This lock-down period has highlighted the tremendous appetite for video marketing and for good reasons. I do not mean endless webinars, I think attention spans are lower and we have probably all taken on board a huge amount of good advice...

Susan Waters
The new normal will certainly keep marketers on their toes!
Many will be faced with shrinking budgets and reduced departments. So as so many have already commented it's time to get back to basics. 'What are we trying to achieve?' is the big question – with previous goals and time frames possibly made irrelevant. So as they go through each activity the questions will be – why are we doing it? what are we hoping the outcome to be in a six month time frame? are our measuring tools adequate and will they tell us what to do to get further engagement if they are well received?
Equally, for many new markets have opened up and new possibilities are on the horizon. How are we speaking, engaging and taking care of our new potential clients. Are we relevant vis a vis a potentially completely different group of competitors, are we speaking the right language, reaching out in the right way.
For those that position themselves as creative marketers your time has come! Resourceful, smart and agile will define the new marketers who will create the new norm.​

Paul Ridgers
This is a time to really analyse the figures. What media channels have been effective, for sales and new customer engagement historically, and where can my brand be seen and purchased during lockdown. Lockdown has been a great time to increase brand footprint, especially on social media and channels like Radio and TV. Be brave, confident and creative. You may remember there was a smaller challenger Crisp brand called Walkers, from Leicester who kept their media spend up in the 1989 -1991 recession while market leaders Smiths and Golder Wonder stopped spending. By the early 1990's Walkers was number one, they maintained media spend and of course had the great Gary Lineker ads. Also look at internal resource, are my team dynamic, productive and profitable, will they drive the brand and ultimately sales forward. Don't be afraid to make changes.

Andrew Walker
Prior to the pandemic I came across too many businesses that seemed to be marketing for marketing's sake, with no defined outcome.
We're now in a situation where budgets are very tight and all marketing activities need to be reviewed to ensure they're relevant and delivering measurable results. There's no room for fluff and a re-brand is not going to get anyone out of this mess.
Current products, services and delivery mechanisms need to be re-visited to make sure they are still fit for purpose for an audience in a marketplace that has quickly evolved.
Those businesses that survive will need to be nimble, agile and be able to see the big picture.

Sarah Ingram 
Focus even more now on how you add value to your customers - how you really solve their problems, wants and needs and be empathetic. Be customer focused - it's about them not all about you. Otherwise marketing will continue to be seen to be about communications/getting the message out and not about identifying, anticipating and meeting customer needs profitably......

Stuart Powell
I have taken the opportunity to speak to a number of contacts across various sectors. The prevailing thought is to go back to basics, ensuring they understand their target customer segments and how best to communicate. I also think now is the time to increase your targeted activity. With so many scaling back a greater share of voice in the marketplace will in time deliver greater market share as the economy recovers.

Meera Shah
This would be a good opportunity for personal development where you can learn marketing skills which you wouldn't have otherwise found time to do.
It's also a time to reflect on your current marketing strategy and plan for the future by:
Auditing your business/organisation to getting an understanding of the current situation (some financial analysis would be required so get in touch with your accountant if you haven't done so already)

Looking at your current sales process to see how your funnel may work - Finding out where you want to go by setting KPIs

Identifying who your perfect customer would be and how you can reach them

Creating a tactical plan on how you would reach your customers where you would set a marketing budget together; have a brainstorming session with your marketing team to see the sort of messages you want to relay; create a content/campaign calendar; creating content and implementation.
Lastly, it's a good time to network and build relationships with your colleagues, customers (both current and potential) and suppliers through video calls, webinars, team-building activities, just to name but a few.

Faizel Gara
Some thoughts on this:
With conferences and events cancelled, there has been a greater emphasis in terms of pushing out more content. This is certainly an era of marketing and in such times the impact of a marketer can truly be recognised.

In the industry I am involved in (aviation), there are significant pains in terms of asset protection, value diminution and overall advisory in terms of minimising loss. This is an ideal time where marketers should push out the service offerings, content and capability of their company, as well as a time to educate.

However, not just in the aviation industry, I have seen content that's come out that would be great but are riddled with typos, formatting errors and inconsistencies in language. I appreciate the pressure in churning such things out but I am of the view that quality supersedes quantity, content riddled with errors can be damaging, so proof-reading / quality control is also paramount prior to release.

I have heard from a number of employers at various companies being pressured to share marketing content from their respective Linkedin accounts, is this ethical or should marketing acknowledge that their are certain limits / barriers that shouldn't be crossed?

Sharon Berkhout
My role is in an NHS mental health trust 3,500 staff, 100+ bases. I've been totally immersed in the incident response to COVID-19. We moved rapidly to working differently, staff working from home, reducing face-to-face contacts with patients, providing services in new ways, staff having to get used to wearing PPE & all of us having to quickly become experts in using new technology. Using MS Teams & Live Events are now the norm.  
One of the first things we did was to ramp up our staff comms producing bulletins 7 days a week. In the team we had to change to cover 7 day shift, 12 hour days. Externally we continued to share key information on social media. We ran digital campaigns and worked closely with local NHS and council colleagues to share key work and offers 
My advice? Continue to demonstrate the added value we bring to our organisations. Be flexible. Keep learning and developing our technical skills, become the experts. Understand those hot issues/topics for your key audiences, refresh your strategy. Network with peers, share learning. As a team working remotely, keep motivating each other, have daily checkins, make the best use of collaborative tools, spend time listening & building the team's confidence & also have fun

Rachel Haines
My advice would be to remain faithful to your brand, your company values and most importantly your business behaviour. Now is not the time to steer away from who you are as a business, nor to change your values, but to keep the consistency of your messaging in line with your brand. It is easy to get overwhelmed by current situations, but your most loyal customers will be expecting you to continue to be a proactive service. Personalised interactions and connected experiences across all channels should be an important part of your digital strategy and now more than ever your digital strategy should be your priority.
Collaboration is key! Keeping your communication cadence going internally is just as important as your external comms. Not all teams work remotely in more usual circumstances, therefore it is important to keep the regular team conversations going. Microsoft is issuing free Teams licenses for individuals and organisations and the tool is brilliant for video conferencing, project management, instant messaging, online event management and assigning tasks to colleagues.

James Massey
-Every business needs to understand its purpose i.e What role does your brand serve in the customers world and how does it provide wider benefits to society rather than just how it works or the service it delivers.
In this new digital world, marketeers are going to have to develop a brand strategy that covers these three main areas: -
Being Different - having a clearly defined purpose and values and ensuring they are delivered across every customer touch point. Many businesses say they have one but how many actually see it sitting at the heart of their business strategy
Being Visible - Being more creative in how you bring the brand to life internally and well as externally. Clients have become very 'conservative' when its comes to creativity and this is something that needs to be re-discovered - be brave in order to get noticed.
Being relevant - Writing content that tells the 'story' of your brand, that interesting and will be shared across social platforms so building awareness and reputation.
Once you know the brands purpose, you can then apply it to every part of the customer journey and look at parts of the business that might need to be improved in order to deliver it.

Mark Davis
Stick to the knitting - is something I always feel is great starting point in the 'new normal' - then you can experiment and test & learn.

Sarah Burden
I keep on reading the 'new normal' and do any of us really know what this will be? I know for my charity, that probably means we'll never go back to working in an office all together x days a week. I know brand has been mentioned a lot in this thread and that has to be key in all that you do so you don't lose sight of them or your values, tone and voice.
Something we've been talking about in the charity I work for, and advice I would give, if you are able to, is don't be afraid to try new things. If they don't work, learn, analyse and try something else. I suppose my key two words would be 'listen' and 'ask'. Engage non marketers in your business as well. I have found that some of the best ideas comes from conversations with my wider work family.

Rachael Wheatley
Businesses are now starting to think about what next after a few months of "managing the now". Many marketers I've spoken to are, and continue to be, really busy on this but it's important to carve out some time to both think and plan and consider how to still remain agile because things will continue to change. Two things continue to be really important:
actively managing relationships with existing clients, offer help and support, engage on a personal level.

keep visible; even though business in many areas has dipped, the only way of ensuring you're in the game as and when things pick up is if you're still on the radar.
For the longer term, reassess your plan - possibly start from scratch - since clients and marketplaces have changed. Review your product/service portfolio since some may need to change or stop. Consider how you can offer the same thing in a new way (face to face training moving to online is a good example of this). Then look at your plan in this order: support existing clients, manage your pipeline and warm prospects, look for new opportunities and clients.
Thank You
Thank you to all the members above who took the time to share their views. We look forward to generating more engagement through discussion topics in the future.
How to take part in future Discussion Topics
Make sure that you are a member of the CIM South West Community Group on Linkedin and look out for future Discussion Topics. We plan to publish members answers here on our blog which are promoted to our readership via the newsletter.