Through these challenging times for the entertainment sector, Board Member, Rob Moffat FCIM, had a chat to the marketing team at Hibernian FC to find out how they maintained their brand awareness and engaged their loyal fan base. 
How football clubs can deliver value for stakeholders during Covid?
Legendary Celtic and Scotland manager Jock Stein famously said 'football without fans is nothing'. One can only imagine what Jock would have made of the recent old firm derby played at Celtic Park, capacity 60,000, in front of no supporters?
'Big Jock' passed away thirty-five years ago and never had to concern himself with a Covid pandemic. As background footballing authorities, in Scotland, the SPFL were given the all-clear by the Scottish Government to commence the 2020-21 season on the basis of regular Covid testing of players and staff and no matchday supporters. The agreement to keep supporters away from matches will remain in place until medical guidance directs otherwise – meaning a completely different world for football.
Football clubs, like other professional sports, have three main sources of revenue: broadcast, ticketing and sponsorship. I caught up with Hibernian FC's (Hibs) Greg McEwan, Head of Marketing and Brand Partnerships for a Zoom call to establish how the Covid pandemic had affected the club's marketing and its ability to deliver value for its supporters and sponsors.
Changing Season ticket creative
Hibernian is one of Scotland's best-supported football clubs. In season 2019-20, they boasted 12.8k season ticket holders and average attendances of over 18k. A new owner, manager, playing staff were all in place. The marketing creative was complete and the plan was to commence sales end February 2020 but the decision was taken to delay with the macro environment changing.
By April the initial creative was supported with the context of the pandemic featuring Hibs CEO speaking directly to the club's supporters using hashtag #weareallhibs
New flexible finance options were introduced to make it easier for supporters in uncertain times.
The campaign was a success and whilst season ticket sales were slightly down take-up has been remarkable with over 11k season ticket sold. So how can you deliver value for supporters when they cannot attend the match?
Delivering value for supporters
Hibs have invested heavily in their online channel, 'Hibs TV', to ensure season ticket holders get to see every home match that they would have seen had the Covid restrictions not been in place.
They have recruited well and brought in the experienced David Tanner, former Sky Sports presenter, and partnered him with club favourite Tam McManus. Studio guests are a mix of former managers and players male and female, John Collins pictured below.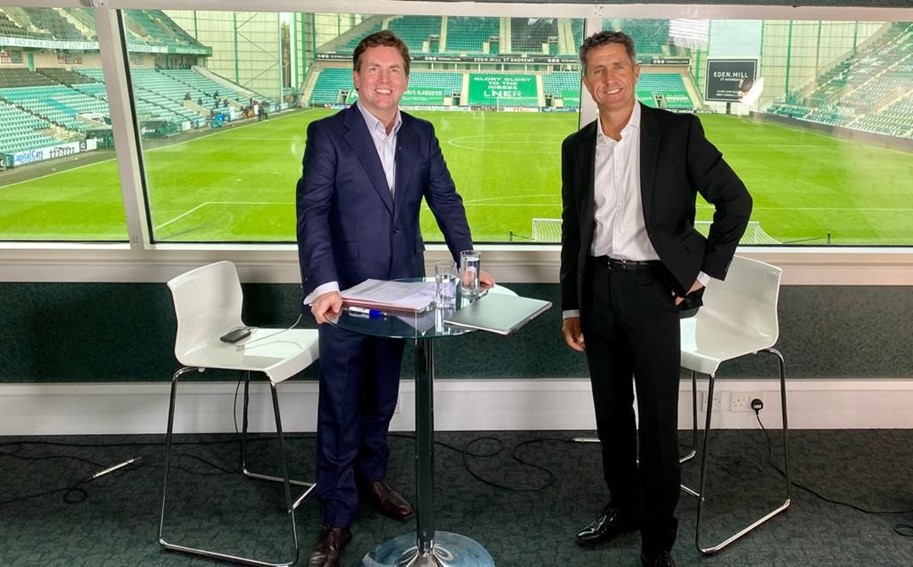 src="/media/268643/hibstanzojc.jpg" alt="" data-udi="umb://media/ac516cb381f14bc4844cdb4a3b595401" />
"The viewing figures have so far exceeded expectations even with fixtures on pay-per-view TV. Supporter feedback has been excellent. Fans now have the opportunity to listen to Hibs issues discussed by those closest to the club. On top of this Hibs TV has created new revenue opportunities – sponsoring the onscreen scoreboard, clock etc." Greg McEwan.
Following the success of the online channel, the club is currently looking into the option of building a permanent studio in the ground. This move puts fans at the forefront – allowing Hibs fans to see matches no matter where they are.
Sponsorship in a Covid World
Hibs gained a lot of positive brand exposure for gifting their front of shirt branding "Thank you NHS", a move that chimed with the national mood and most importantly Hibs supporters - seeing a spike in shirt sales.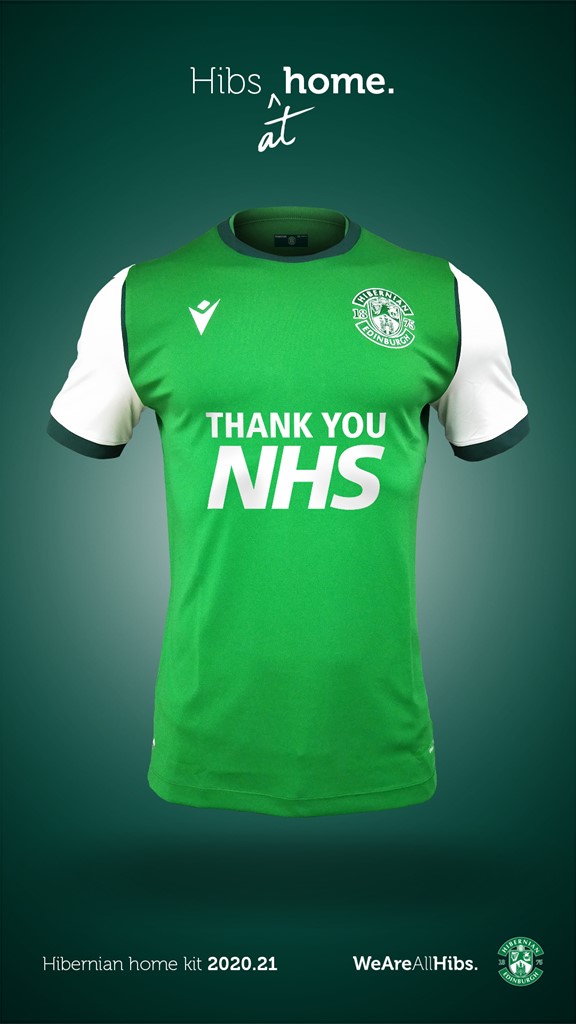 McEwan explains
"we have had to be fleet-of-foot during the pandemic and have to be open to trying new things. Clearly, we couldn't stick with the existing contracts as a number of the rights were not deliverable i.e. matchday hospitality but we've adapted and are using technology wherever possible to help i.e. Man of the Match awards."
While Hibs have lost a couple of partners since the pandemic, as can be expected in such an unprecedented time, commercial revenue remains strong with a number of new partners on board.
In terms of rights delivery, McEwan says "We've been as agile as possible. There have been meet and greets with club legends over Zoom, posting out signed shirts and competitions to win dinner with the Chairman - post-Covid restrictions."
This again shows the importance of taking what was previously off-line into the online market in order to continue to appeal to fans. By tapping into the online space and reaching fans who are keen to be involved with their favourite football team – and who may be time rich with no physical events to attend – Hibs was able to keep the excitement high and provide new, fresh opportunities for sponsors to be showcased.
Digital investment
Like many other businesses' Covid has pushed planned investment in digital to the top of the agenda. Hibs have refreshed their platforms during the pandemic. They have just launched a newer more user-friendly website: hibernianfc.co.uk
Communication with supporters has also increased substantially across the club's social media platforms Instagram, Facebook, Twitter and LinkedIn. With social media channels reporting an average of 10% increase in active users during the lockdown, social media proved the perfect space for Hibs to reach fans who were keen for something to occupy their minds. Instagram proved the channel with the largest growth – gaining almost 200 new followers between March and April alone.
I therefore respectfully disagree with Jock Stein's statement "football without fans is nothing". Football, and sport, without fans, is different. The Covid pandemic has seen marketing creative ripped up, supporters consume in different ways and fast-forwarded the adoption of digital technology which has ultimately created new commercial opportunities for the game. I think Big Jock as an innovator would adapt his thoughts too. I do miss going to games – drinking Bovril in the house doesn't feel right or taste the same!