Spotlight On... Stefan Pryor, Marketing Manager at James Cropper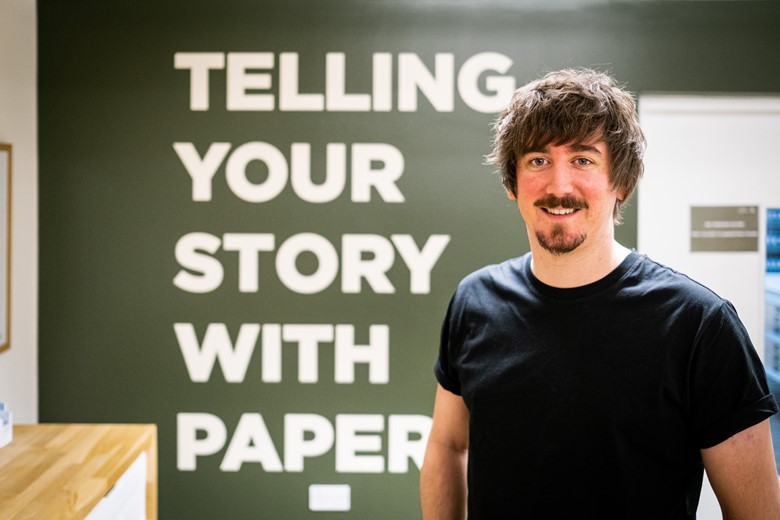 James Cropper are a world-class advanced materials and paper group and 6th generation business established in 1845. They provide niche solutions in our chosen markets, such as custom-made papers for luxury packaging, premium moulded fibre alternatives to single use plastics and materials essential for a hydrogen fuel cell and green energy.
The group is split into 3 divisions – James Cropper Paper, Colourform, and Technical Fibre Products. Despite being based in the Northwest, each division has a marketing team focused on each market and continually working to understand current and future needs of the main segments they sell into.
Richard Slee, on the CIM Northwest board catches up with Marketing Manager, Stefan Pryor discussing everything from innovation, disruption and creativity when championing up cycling and supporting sustainability.  
Has being based in the NW meant that the firm has been more inclined to be a positive 'disruptive' influence in terms of creativity & innovation?
We are proud of our location, it's the catalyst for a lot of our creativity and innovation. We are based in a small village community in the English Lake District, a UNESCO world heritage site.
This quaint setting is humbling and inspires us to drive disruptive innovation within our niche markets. There's almost a sense we are hidden in a valley by our country surroundings, literally and metaphorically, but that has never prevented us from punching above our weight and demonstrating leading innovation with forward-thinking ideas and premium products.
What opportunities do you foresee for the business over the next 12 months?
Further fibre innovation. In 2013, we launched CupCycling an award-winning world first recycling process dedicated to upcycling coffee cups to be used for premium products. This fibre stream has since been used to create papers for Burberry packaging, Hallmark cards, and many more. Over the past 10 years we've developed this strategy further and invested heavily in our FibreBlend Upcycled technology, to take a multitude of different fibre streams to be used in paper and that can be recycled over and over. The lastest innovative fibre is upcycled denim that addresses the global issue of fast fashion, where 87% of clothing is sent to landfill or incinerated.
What do you think is the secret to innovation and endurance?
Recognising that innovation is not invention. I believe that the key is to constantly ask questions and find new ways of working with our customers and in our markets by drawing from successes in other industries, using the past as inspiration, but not a blueprint, and transferring all these ideas into new products, services, and solutions.
In 2025 we will celebrate our 180th anniversary and it is our constant thirst for innovation that has shaped our forward-thinking mindset and meant we are as strong today, as ever.
How have you marketed your innovation to build awareness and create demand?
We've aimed to connect ourselves, a B2B manufacturing business, with the consumer further down the supply chain, which isn't easy.
Connecting our innovations and technologies with what matters to people and reaching them in a way that drives a change in habits has created a more emotional link with consumers who aren't our direct customers. Using CupCycling as an example, through collaborations with McDonald's, Costa Coffee, and Veolia, together we have built a cross sector infrastructure and awareness about recycling coffee cups, that has led consumers into making conscious decisions every day about how they contribute to this change. This has driven demand for the fibre to be included in new paper products we create.
How important is it for Marketing to be represented at a senior leadership level?
 It's incredibly important for any organisation that there is a marketing voice at the senior leadership table, flying the flag for the discipline. There's a common misconception that the role of marketing is to just focus on the Promotional 'P' of the marketing mix and nothing else. This is far from the truth and senior representation can filter marketing principles through the organisation and dispel these myths. 
How did you get into Marketing?
I've always had a commercial background since I started as a business administration apprentice at James Cropper in 2008. The company supported me studying a business degree remotely, whilst I still worked full-time, and marketing was a module that I found interesting and enjoyed applying to my job.
As my career developed from customer service into projects, I more recently found myself in a product manager role focussed on our portfolio of packaging papers. It was from here I went on to study for my Level 6 Diploma in Professional Marketing through CIM in 2020, graduating the following year.
What are the things you enjoy most about your role?
I enjoy the variety of the role and I suppose this can be reflected in marketing overall. The fact that in the same day I could be chatting with a colleague over a coffee about ways to launch a new product, in a meeting about innovation, or considering how a new story might land with our audiences, makes it so thought provoking as a profession and keeps me on my toes!
Speaking specifically about James Cropper and touching on what I said earlier about our location, when you consider 'the paper industry' in its entirety, we are a small niche part of this, but the impact we have is impressive. I can confidently say to everyone I meet that they will have experienced a James Cropper product at multiple stages of their lifetime and the impact is far-reaching.

More North West insights
We would like to thank Richard and Stefan for this interview, if you want to read more marketing insights from marketing leaders in the North West​, check out our CIM NW news feed here.