Relationships Make the Marketing World Go Around
by Andy Bargery
The marketing industry is a bit odd.
It's a people-centric business that relies on relationships and good communication. Yet it seems many of those who earn their living in marketing are decidedly average at both relationships and communication.
This is no more evident than in the client and agency dynamic, i.e., how brand-side marketers and their colleagues in agencies work together.
Agencies need clients, and clients need agencies. It's a symbiotic relationship.
It can be the most remarkable love story full of awards and praise, or conversely, it can be a painful existence for both parties until someone has the guts to call quits.
I wanted to explore the nature of this relationship in more detail and teamed up with The Marketing Meetup to conduct a research study. We set out to explore what effective client and agency relationships look like. What do both sides like and dislike about each other?
We received 229 responses to our survey, roughly half from client-side marketers and half from agency staffers.
And it seems we're not at all happy with each other. In short, there's a real lack of trust. Brands don't trust their agencies to deliver. Agencies don't trust their clients to give them what they need to deliver. In fact, on average, we rate our colleagues just 6 out of 10 for how much we trust them to provide what we need to do our jobs well.
Sounds broken, right? It isn't very reassuring.
From someone that has worked on both the client and agency sides, I can see both perspectives. There's clearly a need for change.
In my time in marketing, clients have beaten me up when they want to change the world overnight for zero budget. Or they've treated my team poorly. Often client-side marketers haven't a clue how to hire or manage an agency or deliver a good brief – a critical ingredient when working with agencies.
Equally, I've hired agencies that promise the earth and deliver a damp weekend in Bognor. They've oversold ideas and then resourced the account with an inexperienced team. Or they have promised ROI in weeks when really, it's taken many months or is not delivered at all—the usual gripes.
It's time for a change. It's time we looked at how we work together to drive up marketing effectiveness.
But what should that change look like?
Based on our research, we have devised a 5-stage plan to help marketers improve client and agency working relationships. And we're giving it away for free here.
You won't be surprised to hear trust is at the top of the list of what we need to fix. But how? The answer lies in exploring five key areas: Understanding, People, Time, Investment and Communication. We call this UPTIC (for obvious reasons). There are improvements to be made on both client and agency sides.
Let's look at understanding because it's an excellent place to start on your journey to improved relationships. Understanding is about knowing your colleagues' priorities. For agencies, you need to learn your client's vision, long term business objectives and strategy. It's about seeing them as more than a revenue stream on your roster.
For in-house marketers, it's about getting to grips with what your agencies are trying to achieve with their business and Understanding what they need to hit your objectives. On that note, let me reiterate the importance of delivering a good brief. It's crucial and almost top of the list of priorities for agencies, even though client-side marketers ranked it as only the fifth most important factor in their relationships with agencies.
I hope our report will spur you into action and help to improve how you work with your colleagues on the other side of the marketing fence.
You never know it might even lead to more effective marketing alongside a much-improved industry in which to ply your trade.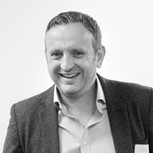 Andy
is a seasoned marketer, starting out at big brands Compaq and Walkers Crisps in the late 90s. He has accumulated more than 20 years of experience in marketing, including spells at leading agencies Pleon and Ketchum before founding
Klaxon
; a marketing communications agency.
Andy
has worked across multiple sectors during his career, and his past clients include Google, the EU, Vodafone,
lastminute.com, Astra Zeneca, FedEx, Xerox, Oracle, Shell and a wide array of SMEs.
Andy
is a Chartered Marketer, Fellow of the CIM and teaches Chartered Institute of Marketing professional qualifications and marketing apprenticeships. He is also a Non-Exec Director for start-ups and SMEs.