Can a marketing intern help your business?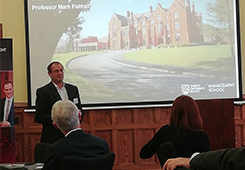 Queen's Management School Placement Office hosted a very successful "Can a marketing intern help your business?" event on Tuesday 18 September 2018 at Queen's University Belfast, organised by the Chartered Institute of Marketing. Numerous local companies came along to hear more about the process and benefits of hiring a marketing intern.
Attendees were welcomed to the event by Lisa Burns, Placement Coordinator. Jill McGrath, also a Placement Coordinator, outlined the role of the Placement Office and how it can support companies wishing to recruit students. Professor Mark Palmer from Queen's Management School provided an overview of the MSc Marketing programme.
Attendees also heard from former student of the MSc Marketing programme Aveen Stewart, who provided a fascinating insight into her journey whilst studying, obtaining an internship and subsequently a graduate role with the MCS Group in Belfast. Rounding off a successful event, Tom Mervyn, from the QUB Employer Engagement Team, outlined the funding options available to SME's and Charitable organisations as part of the programme.
If you have any queries or would like to speak to a Placement Coordinator about how an intern could enhance your business please contact placementmae@qub.ac.uk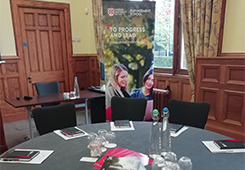 Image: Riddel Hall room
Top image: Professor Mark Palmer, Queen's Management School