Becoming Chartered...And Why it Matters!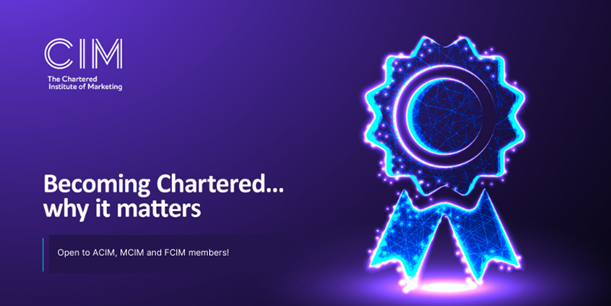 A few weeks ago CIM Ireland hosted an event around becoming a Chartered Marketer and why it matters. In this article we take a look at what we covered in the webinar and give you a bit of background around recent developments in this area. 
Chartered status now open to ACIM members
In 2020, CIM announced significant changes to the Chartered Marketer programme making it possible for ACIM members to gain Chartered status earlier in their careers.Since implementing this change in April 2020, we have welcomed over 190 Associate members to Chartered Marketer status so far!
Chartered Status among CIM Ireland members
Through our discussions with Ireland region members we learned that many of you were unaware Chartered status was now open to Associate members and had preconceptions about the process that might be putting you off!
To remedy that, we recently held an event for ACIMs and studying members to demystify the Chartered Marketer process and answer any burning questions you had around taking the plunge. We were delighted to welcome Chartered Marketers Maria McKeever and Andrew Hollywood, to hear their take on the process and the positive impact their commitment has had on their careers. 
Maria, a recently Chartered ACIM member, allayed any fears around the preparation for the final exam, explaining a short and simple multiple choice test that related to her areas of focus during her two CPD years. Maria explained how she was surprised at how straight forward the assessment was and had she known she would have done it much sooner.
Andrew, an experienced marketer and FCIM member, has held Chartered Status for 5+ years. He talked about how he had experienced great benefits in his career, namely making him a more desirable candidate for roles he pursued, adding how he had always valued CIM for its second-to-none resources.
Why Chartered Marketer status matters
Chartered Marketer status, achieved through completing CPD, is recognised internationally and is the mark of an up-to-date, experienced and qualified marketing professional.
The status enables you to:
Stand out from peers

Secure new opportunities

Keep up-to-date within the industry

Demonstrate dedication to being a professional marketer
Your professional designation will be shown through an annual certificate, digital badge, and name listed in CIM's Chartered Marketer directory. You will also be able to use the Chartered Marketer logo on any stationery or professional identification.
Did you know? There is no charge to pursue or sit your Chartered Marketer assessment! You simply need to ensure that your membership remains current and you submit your CPD on an annual basis to ensure your records are up to date. 
We want to make the decision to pursue your Chartered Marketer status an easy one so we have included some information from our session slides below. 
For the official guide to becoming a Chartered Marketer visit this page.
First up, a quick look at CPD and how simply recording your activities in the CPD platform is the first step on the road to getting the recognition you deserve.
CPD
Simply undertake any marketing activities throughout your membership year – whether completed with CIM, other organisations, or on your own – and record them onto the online CPD platform.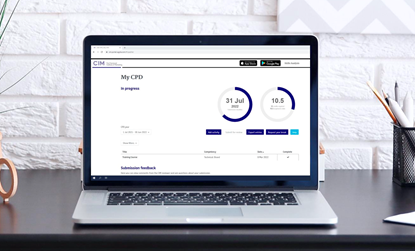 Professional Marketing Competencies
These are the skills and abilities expected of professional marketers today and benchmarked by CIM through extensive research within the marketing field.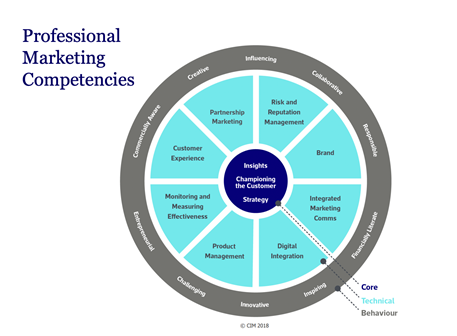 Activities undertaken for CPD should provide development in one or more of the 3 core competencies:
Insights

Customer Focus

Strategy
CPD Year and Deadline
Your CPD year runs in conjunction with your membership year. Your CPD activities should be recorded on the platform periodically throughout the year. 

CIM need to receive your submission by the end of your renewal month - after this, we will not be able to accept any late submissions unless there are extenuating circumstances that have prevented you from submitting.
Please contact cpd@cim.co.uk if this is the case.
Completion of CPD
Upon completion of CPD in each of the 2 years, you will receive a digital CPD certificate. You can use this to evidence your dedication to developing your skills and knowledge, and commitment to your profession. This is great to have if you are a freelancer or consultant, for whom professional recognition is important, as it helps to distinguish from competition.
Chartered Marketer assessment
The Chartered Marketer assessment*, accessed through your CPD platform, consists of 15-18 multiple choice questions based on the Professional Marketing Competencies.
You will have five attempts to pass the assessment, which will be available at any time until the end of your following CPD year.
The assessment is designed to test your already-existing knowledge of marketing so does not require revision; however, you can use the Skills Analysis (accessed via your CPD platform) to get an idea of the type of questions that will be asked.
* If you have completed a Level 7 qualification with CIM, you will be exempt from the online Chartered Marketer assessment and will be awarded Chartered Marketer status upon approval of your second consecutive year of CPD
Maintaining your status
CPD needs to be submitted every year to maintain the Chartered Marketer designation. Your deadline is the last day of your renewal month each year and you will receive numerous reminders in the run- up to your deadline.
We advise recording CPD periodically throughout the year – this will avoid a large workload close to the deadline and allow you to record the activities whilst fresh in your mind to reflect on your newly-acquired skills and learning outcomes.
'The Value of Chartership' report
A recent study conducted by CIM in partnership with CIPR into the growing importance of chartership and CPD in the public relations and marketing industries found that 39% believe respect for Chartership in PR and marketing has increased. The report also concludes that becoming Chartered can provide a competitive edge and many benefits for PR and marketing professionals such as:
Over four in ten (43%) argue it is very important for careers
Three in ten (31%) state being Chartered provides them with an edge to win new business
15% have been able to demand a higher salary or increase their rates because of their Chartership status
71% of the public would trust a professional more if they knew they were a Chartered professional practitioner.
72% of respondents argue that regularly upskilling is crucial in order to progress their career
40% of practitioners believe level of respect amongst chartered professionals in the marketing and public relations industries has improved in the last decade
65% of the public trust professionals who are part of a professional body 
48% of the public have checked whether someone belongs to a professional body
CIM will be publishing the full report in the coming weeks so you'll be able to dive deeper into the detail and start your journey into Chartered status armed with all the facts.
Need more info?
Contact the CPD team at cpd@cim.co.uk or call on +44 (0)1628 427120 and a member of the team will be glad to talk you through it. 
Alternatively, join the CIM Ireland Linkedin Group and ask the group for advice and support. We're an informal, friendly community who love to help each other out, so come join us!