Marketing Club Online: From ha ha to aha: Insight, Serendipity & Humour – review by Connie Magoba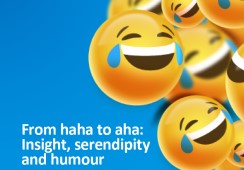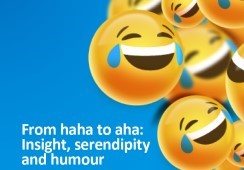 The CIM Marketing Club is hosting a series of free webinars that started in January. The first one, which took place on Wednesday 26th January, featured Anthony "Tas" Tasgal. Tas is a self-proclaimed man of many lanyards, who has spent several years working as a strategist. He has also led different training sessions and lectured at universities internationally and in the UK. He has written books such as "The Storytelling Book", "InCitations", "The Inspiratorium" and in April he will be releasing the "Storytelling Workbook."

Tas's webinar took a different approach to insights and looked at how the focus should be on feeling, rather than what insights do. In today's market, it has become more prevalent than ever to understand what Insights are and how they can be used effectively. He discussed how there should be "Less emphasis on numbers and data at the expense of story and emotional engagement." He talked about the golden thread and discussed the importance of seeking new connections and patterns when using Insights, specifically how taking a humorous approach could lead to new discoveries.

His take on the "What if" approach when it comes to storytelling encouraged you to start looking at things differently. His webinar was not only funny but shared refreshing ideas. Although it would have been nice to have seen him deliver this webinar in person, it was still engaging, informative and left you feeling like you learned a new approach. It was an enjoyable experience listening to an industry expert talk for free and I look forward to watching the next webinars.

You can find details of future Marketing Club webinars and recordings of previous sessions on the CIM website here:
https://www.cim.co.uk/qualifications/cim-accredited-degree/cim-marketing-club/
Follow @taswellhill to learn more about Insights or just to discuss films with him. There will be additional talks in February, March and a further two in April. If you are a student preparing to enter a marketing career, these webinars can provide valuable material. They aim to deliver the latest in thinking, trends and techniques in real-world marketing putting you ahead of the game.
Connie Magoba