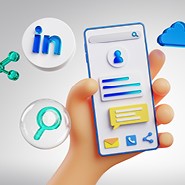 Hear from Charlotte Buckman, one of our Student Ambassadors, on her top takeaways from our recent LinkedIn webinar

Guest speaker George Honiball who currently works for Microsoft and is a global public speaker and author, gave a detailed demonstration on how to create a LinkedIn profile with tips on how to use it to boost your employability. George began explaining how he currently works at Microsoft, who own LinkedIn and how he has been both a corporate and recruiter user on LinkedIn previously for many years.
In the start of George's visual demonstration, he showed a newly created, blank LinkedIn profile as well as the layout of LinkedIn overall, including the news feed and AD's. George then demonstrated how to start adding features to your profile such as a profile picture, which he gave tips on how a good quality and professional profile picture shows the persons face clearly and has a clear background. How to add professional experience, videos and a header photo was also explained, and George then went on to explain how LinkedIn works.
LinkedIn recommends people and pages for users to follow based off the user's location, pages, or people they have previously followed or interacted with and people that follow the user. There are many benefits to interacting on LinkedIn as by liking, commenting or reposting content from other pages, the user becomes more visible and creates more of a presence whilst also leading the algorithm to show them similar content.
George explained how it is important for businesses that users add to their professional experience are recognised as a business on LinkedIn to boost the quality of the user's profile overall. George also demonstrated how LinkedIn can be incredibly useful when in search for employment as many jobs are advertised on LinkedIn and users are able to bookmark and apply for those jobs with their LinkedIn profile as well as see how many others have applied for the same role and are also given a list of recommended jobs based off the one, they are looking at. This was also talked about again further into the demonstration when George was highlighting the key benefits of paying for a premium LinkedIn membership, as it is great for people looking for employment as they are able to have priority viewing of job advertisements and view them before non-paying members.
Lastly, in the Q&A session George was asked what the upcoming LinkedIn trends would be and how to best keep up with them. George recommended to publish fresh content, such as blog posts or articles and explained how only 1% of LinkedIn users post frequent fresh content, meaning by posting fresh content, a user can become part of that 1% and differentiate themselves from others.
Overall, LinkedIn is a great tool for anyone to use and by creating a good quality profile, more doors can be opened, and more opportunities can arise.