Key takeaways from CIM Wales' Marketing Strategy Masterclass
As face-to-face events return with a bang, CIM Wales hosted its Marketing Strategy Masterclass on 27th April at Cardiff City Stadium.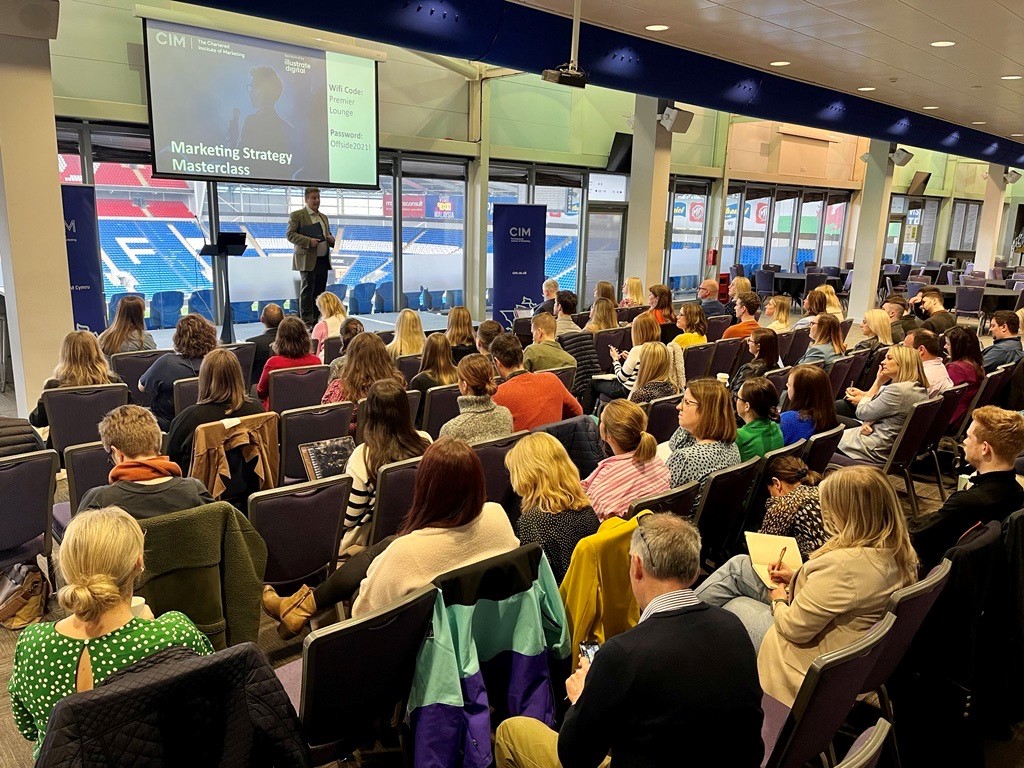 The event was generously sponsored by Illustrate Digital and was encouragingly attended by more than 60 marketers and communications specialists from across Wales and beyond. Attendees represented everything from music, film and tourism industries through to the charity sector, social housing and marketing agencies and freelancers. Against the striking internal vista of the stadium, attendees were not only treated to 6 quality presentations but were also able to enjoy unrivalled networking with MarComms counterparts.
Georgina Lewindon, CIM Wales Committee Member and Owner of Glew Marketing, started proceedings with a mouth-watering presentation (you had to be there to appreciate the extensive use of cake imagery) focused on auditing, honing and developing your marketing strategy. A practical and helpful launchpad for the rest of the presentations. There was also a delightful clamour for her slides and strategy templates, especially her 5Cs review checklist. 
Download Georgina's slides - Fully baked: how to create a marketing strategy that holds
Georgina was followed by veteran marketer Roger Pride. Roger drew from his wealth of experience at Visit Wales to help us reflect constructively on the characteristics of successful brands and the role of brands in an impatient digital world. His adage that a 'brand is like a beacon: it shines outwards and inwards' was a thought-provoking take-home.
Download Roger's slides - Making your brand, your beacon
Etex's Head of Marketing Andy Mudie took us into the world of product extension strategy with particular thought given to developing and launching new products. I'm sure we will never forget the image of the 1980's Colgate Lasagna package - a dramatic failed product case study.
Download Andy's slides - How to avoid a product flop
After a refreshing caffeine break, we were treated to a presentation by top 100 Data Innovator, Datamonet's Syed Sameer Rahman. Syed provided us with peerless insight into the world of data, its accessibility and how powerfully it can be used in the hands of the marketer.
Download Sameer's slides - The magic and logic of data
Laura Aherne, CIM Wales Committee Member and Director of B Corp Millrace Marketing helped us see afresh the challenges, joys, pain points and pitfalls of developing a sustainable marketing strategy. In perhaps the most challenging of 6 presentations she unpacked both the necessity and urgency of incorporating sustainable practice into a business and how to communicate it appropriately and truthfully.
Download Laura's slides - Sustainability in marketing
Last but by no means least CIM Wales Committee Member and Bangor University lecturer Carl Mather treated us to an energetic consideration of branding and customer profiling. The most important note from Carl was the necessity of adapting to your target audience. The most memorable note from his presentation however was the revelation of his apparent skills in goat husbandry.
Download Carl's slides - Avoiding SPLOTS 
This excellent day was concluded with a robust panel Q and A that helpfully explored everything from Greenwashing to marketing personas.
CIM Wales are very thankful for the energy, consideration and commitment that was put into this event. The plethora of learning points provided by the days speakers have the potential to positively impact the marketing practice of attendees for years to come.
Written by Owen Brown, Client Relationship Manager at Millrace