Of all the careers you could have had what made you choose marketing?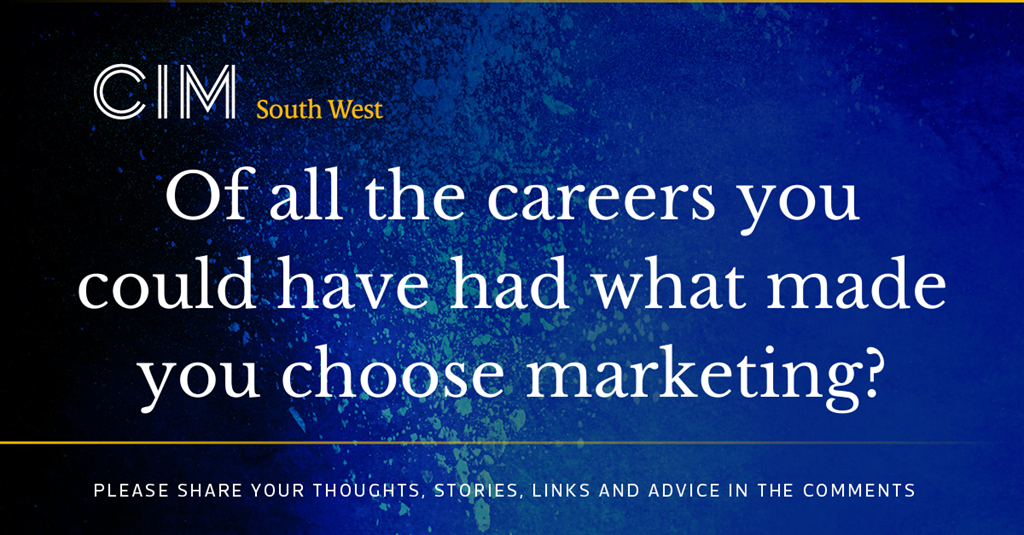 This post relates to our series of 'Discussion Topics' that we post every month in our CIM South West Community Group on LinkedIn. We asked members to share their stories about how they came to choose marketing as a career.
Its interesting to read about the many and varied routes our members have taken into marketing. For some the idea started early and for others it has been a second career.
There are also many angles that motivate us... creativity, strategy, writing, project management, data, analysis, making a difference, influencing decisions, psychology, developing relationships, continuous learning, developing transferable skills, teamwork... the list is endless!
Read what our members have shared:

Georgina Lewindon
It brought together the best of project management, creative design, writing, analytics etc. None of these appealed as jobs in their own right, but as a whole they made for a fascinating and varied one.

Gerry Vincent (CIM South West Board Member)
I remember reading about marketing in our schools careers library and the rising sense of excitement that I might just (finally) have found the career I was looking for. I love the intellectual challenges it throws up, the speed of change, the endless creativity and the opportunity to make a real difference. I'm analytical and curious, so I enjoy digging down into data and uncovering what's beneath.  But for me, the real joy is in that moment when the thinking, analysis, and strategic nous all comes together and the answer reveals itself…!

Sarah Patten (CIM South West Board Member)
For me, I love understanding the psychology behind why we choose one brand, over another. How the messages we push out, can help the client make that decision, and how we can build trust for a brand that can last a lifetime. It's a varied, fast paced environment which keeps you on your toes!

Emma Charlton
I've always had some element of creativity in my career path - I really wanted to be a film producer and started my career working for the BBC (following work experience) working on the Radio Times mag and hiring out OB equipment in Cardiff, followed by working in Radio Planning at the BBC in London. Personal circumstances have moved me from place to place but I have been lucky to have had my qualifications supported by employers and jobs gained through connections. I love that marketing can enable you to work across sectors as it's a very transferable skill.

James Massey
I guess I fell into it starting my career in the advertising world and then moving onto client side. I love the ability to bring ideas to life and change peoples perceptions. I love the fact that if you create an amazing brand campaigns everyone in the company gets a feel lift and they can then start to understand that when marketing is done well it can make a difference.

Meera Shah
When I was younger, I wanted to be a teacher. However, I fell in love with marketing at the tender age of 12 after my dad gave me a taste of marketing when he asked me to plan a campaign for a new chocolate brand in the Kenyan market. The icing on the cake was when the campaign was successful and the chocolate brand was stocked in a leading supermarket. Since then, I've attained a Marketing degree and a CIM qualification; worked at a leading advertising agency, an online photo gift company, a well-known marketing company and now as a marketing consultant. Marketing brings out my creative side, analytical skills, planning skills, networking skills, trying out new ideas and the opportunity to keep developing as a person through formal and informal learning. This is why I chose Marketing as a career over any other.

John Dalgarno
I was a Producer in a Visual Communications Group, my MD suggested that I would be good at marketing/sales. He thought I understood our clients well and built good relationships. I have always enjoyed the creative challenge of marketing and producing video/conferences. It has proved a useful combination of skills.
I am not sure that I had a linear route into marketing, but I don't regret the way that it evolved. I began in the craft baking sector and this taught me some amazing transferable skills that I still use today. It was when I moved into Fresh Food retailing that the penny dropped. It was a really exciting and motivating environment and allowed me to develop my skills in a very productive way. Working towards Chartered Marketer status was a great boost. 

Brian Doidge (Chair of CIM South West Board)
I am not sure that I had a linear route into marketing, but I don't regret the way that it evolved. I began in the craft baking sector and this taught me some amazing transferable skills that I still use today. It was when I moved into Fresh Food retailing that the penny dropped. It was a really exciting and motivating environment and allowed me to develop my skills in a very productive way. Working towards Chartered Marketer status was a great boost. 

Sharon Berkhout
I'm of an age where I sort of fell in to marketing, rather than choosing it as a career option at the time. I've taken every opportunity to learn along the way and it wasn't until just over 10 years ago that I finally gained my professional qualification through CIM. I was lucky to have that funded by my employer, the NHS. What I most enjoy about marketing in my current role is being able to demonstrate to the Board the benefit of a marketing approach to reaching out and increasing patient referrals to our TALKWORKS service, as well as how it has helped to achieve an increase in staff applying to hard to fill nursing and doctor roles. What is so important though is having a great team around you, which I am proud to say that at DPT I do, both in the DPT Communications Team and the external organisations we work closely with who are also very much part of our extended team.

Rachael Wheatley
I got in to marketing by accident.... or perhaps it was meant to be! When I started applying for jobs it happened that most of the jobs I applied to were in the marketing field. My first job was as a product manager at a publishing company (in fact I applied as an editorial asst but the sales and marketing director wanted to interview me for the other job). And there I ended up, working in sales and marketing with a bunch of like-minded, smart people.

Susan Waters
Interesting question - I guess it's intrigue of what makes consumers tick. Like many respondents I have dipped in and out of other business roles but marketing but is core to them all. For people seeking their first career (or a new one) it's a great step!

Matt Rogers
I got into marketing roles without really realising that was what I was doing. I loved live music and started helping out at an independent record label and rehearsal studio who put on weekly live shows. This gave me some experience of promoting gigs and record releases, which I loved. This led to a number of years working full-time promoting events and alcohol brands, before a move to the not-for-profit sector and a CIM qualification, to give an academic framework to what I had learnt on the job. Wish I'd worked it out sooner and gone down the marketing degree, apprenticeship or CIM qualification route from the start!

Tunde Awe
Strangely, my background was Chemical Engineering! As part of undergraduate study, I interned as a Service Engineer downstream Oil & Gas sector fixing Petrol stations and Gas Plants. After graduation, I worked as a Trainee Petroleum Engineer upstream Oil & Gas sector managing depletion of Oil reservoirs. Common to both roles was a yearning to do more. Upon introspection, my leadership extracurricular activities in student unionism and as class representative highlighted my passion for marketing and management.  Courageously, I switched career and followed my passion into Marketing.  
I have since undertaken CIM and other professional qualifications to navigate the journey. I love Creative end of Marketing and have had the privilege to lead business-building advertising campaigns but my quantitative background makes me feel at home at the Strategic end of Marketing spectrum. Hence, my advocacy for 'Return on Investment' to demonstrate that Marketing creates value. Yes, we do!

Andrew Walker
I was a techie working in Electronic Test & Measurement. I got seconded to our new marketing department to clear up a backlog of technical support issues. After 3 months I was asked if I'd like to stay and immediately said yes. As I was moved into a Product Marketing role I thought that I should try to understand more of this Marketing Malarkey and enrolled in a 6 months OU course, which was excellent. I got the bug and signed up for the CIM post graduate course then did an MA in Marketing at Plymouth University Business School. I fell into marketing and I'm glad I did. It's definitely more interesting (for me) than electronics ever was.


Kath Dawson (CIM South West Board Member)
I meandered into a marketing career after spending 7 years in University Administration (Midlands then Devon) and then 2 years living in Florida. When I returned to the UK I didn't know what I wanted to do next. I met my husband-to-be who was a management consultant doing a little bit of digital marketing. We kicked the tyres about working together at such an early stage in our relationship but basically he said that if I could figure out how to offer a more comprehensive digital marketing service then he could sell it!
I did all the courses, made all the mistakes and between us we made some good choices - 12 years later we sold our nearly £2m turnover business and I got to be a freelance Digital Marketing Strategist doing all the fun stuff again.
When I was about 28 I did an MBA which helped me fall in love with the theory of marketing. Then learning about digital marketing specifically fuelled my interest in psychology. I also love to unpick stuff, help people understand how the smoke and mirrors works and I love all the data and automation too.
How to get involved in future 'Discussion Topics'
On the first Monday of every month we post a new Discussion Topic in the CIM South West Community Group on LinkedIn. If you are not already a member of the group then ask to join. All you need to do is comment on the current post in the LinkedIn group and we'll include it in our compilation post on that topic which is published during the following month.
The next discussion topic is: What brought you to choose the South West for your home and career in marketing? You can comment on this post until 12 December.