The 2020 Mike Warne Event - The Impact of Neuromarketing

Every year,  final year Marketing Communication students at Bournemouth University organise one of the CIM's most prestigious events.  This event is dedicated to the memory of the late Mike Warne, who was the South West Regional Director for the Chartered Institute of Marketing (CIM).  
On Wednesday 26th February 2020 we will see a host of leading names from the world of marketing sharing their vision of our industry's future during this major event which is entitled The 2020 Mike Warne Event- The Impact of Neuromarketing.  
This emerging topic has been chosen by the students with the support of the CIM. As we know this is a time when many of the big brands are looking at, or are now actually using Neuromarketing to help them relate to their customer base.  This event will reveal how this concept can be effectively used within market research as well as the powerful effect you can generate, when it is used correctly. 
The event will appreciate the diversity of the industry and the differing views around this concept within each sector.  During the evening, will also enjoy some interactive demonstrations and you will learn how organisations are using Neuromarketing in practice.  You will also have an opportunity to put your views to a panel of experts at the end of the evening.
The CIM and the Bournemouth University students have designed the evening in a way that will allow us see how Neuromarketing is emerging an exciting way to look at your company's customer research. Our speaker's will show how it allows a greater understanding of research, and in turn how this can also make marketing research more cost effective, as well as helping your business to shape the right customer behaviour for your brand.
More about the event:
This year's event will illustrate how many of today's brands are using neuromarketing to help them relate to their customer base. The evening has been designed in a way that will allow us to see how neuromarketing is developing into an exciting way to look at your company's customer research, through a blend of interaction and presentation. Kim MacHipisa, one of the Bournemouth students organising this year's event has written a post outlining four reasons why neuromarketing is such a hot topic with brands and marketers at the moment. Read more. 
Speakers: Katie Hart and Dr John Hogan 




Katie has been studying psychology for over 28 years, and is passionate about the opportunities it provides and the role it should play within marketing. Her business helps organisations to gain increased customer engagement and loyalty by understanding the fundamentals of how our brains work. She is currently studying for an MSc in Applied Neuroscience, and her speeches regularly feature the latest knowledge and insights provided in this emerging field. Katie is the Customer Insights tutor for the Cambridge Marketing College, and has been a Fellow of the CIM since 2017 and is a highly regarded member of the Professional Speakers Association.

Follow Katie on Twitter @Rhetonic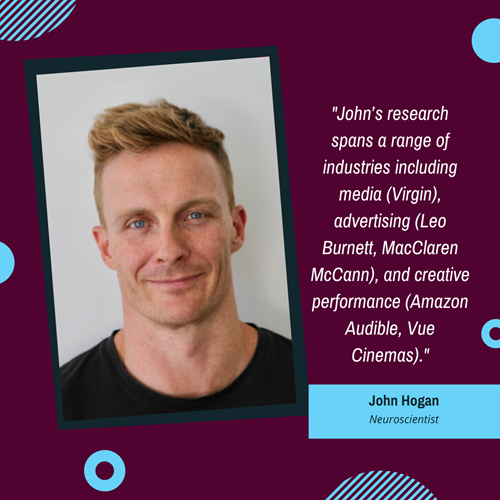 Dr John Hogan is a neuroscientist studying consumer behaviour and how product experiences play out in the brain. Using physiological methods, John helps businesses better understand their customers by providing data not available with tradition marketing research techniques. John's research spans a range of industries including media (Virgin), advertising (Leo Burnett, MacClaren McCann), and creative performance (Amazon Audible, Vue Cinemas) and in 2015 he launched a neuromarketing course at UCL with Dr Joe Devlin to give businesses of any size an opportunity to learn first-hand how neuroscience can really be used in customer research. The course examines the latest trends in neuromarketing and helps business consultants, PR firms, advertising and market research agencies understand how to use these methods effectively and responsibly. 
Book your tickets now on the Mike Warne event page