What advice would you give to those of us, who are trying to formulate new ideas, or to adapt existing ideas, in new or unexpected ways
What advice would you give to those of us, who are trying to formulate new ideas, or to adapt existing ideas, in new or unexpected ways?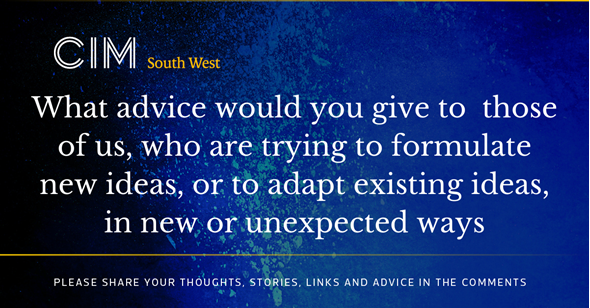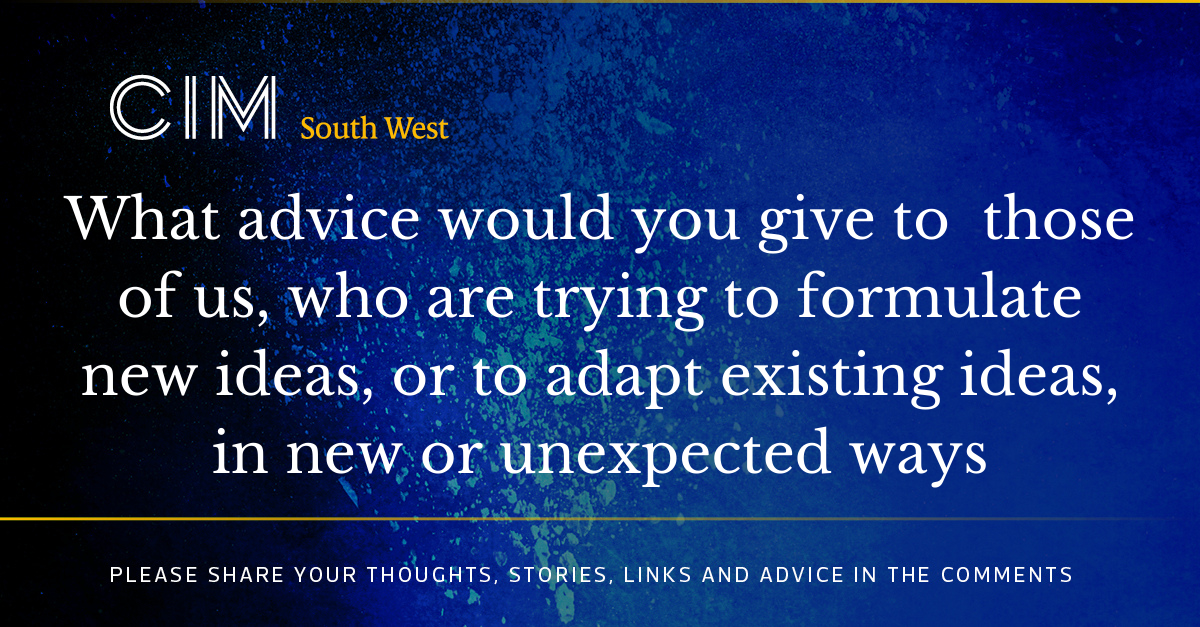 The following contributions were made by CIM South West Members on the LinkedIn Group as a response to a Discussion Topic invitation.
Look at what's trending in other parts of the world and how that could be used to best purpose in your own sector or market in terms of formulating new ideas or adapting existing ideas.

Matt Smith
Don't be afraid to take a risk - try something new and different. Something that others in your market haven't tried, or (even better) wouldn't dare try. 
All too frequently, the temptation as marketers is to sit on the fence and go along with the status quo. Keep an eye on what the competition are doing and simply try to replicate that as much as possible. Pressure from stakeholders can often mean that we can't afford to not do what our competitors are doing. But it goes without saying that the only way to stand out from the crowd - is to do something that no one else is doing.   So instead of trying to take inspiration from the competition – think about the old 80/20 rule, and really focus on that 20% of your customer base. What is it that they really want and need, and what would really appeal to them.
Be confident and brave with your ideas and share with colleagues or your family - you never know where your initial idea can be turned into a genius idea from the input of your non marketing colleagues, son, daughter or partner. Take some time out of your 'normal' environment to challenge yourself to see things in a different way. Test if you can to see the reaction from customers and build on that.
Talk! We are an amazing community of people. Talk to one another and take advice where you need it. Ask people using new techniques, tech or avenues that you are interested in, how they are getting on. Also don't be tempted to just spend on Martech. There are plenty of low budget and easy ways to adapt your current practices to create new opportunities.

Emily Tippins
Don't lose sight of your marketing strategy. The objectives you set before Covid-19 should still apply and it's just the tactics you employ to get there which might need some thought. For example, perhaps your strategy includes positioning yourself as a thought leader. Your objectives might be to increase share of voice in a specific sector or geographical region. So, now you may need to think about other ways to reach your audience which don't rely so heavily on physical events, networking and - if you do it - outdoor marketing. It's about having an adaptable team that can pivot to different channels and scale up or scale down that mix depending on the external factors which are outside your control. Ultimately... don't forget about the bigger picture or the brand 'onlyness' that is unique to your company DNA. Stay focused on the long game and be agile enough to deviate from the original path you may have set to get there, and you'll do just fine.

Lauren Webb
Be open to collaboration and sharing of information. One of the most positive things to come out of this dark and strange time is that it has been good to see communities, both business and otherwise, pulling together in different ways. On the work front, people have been much more open to sharing information, collaborating on different projects and giving others heads up of projects that could be of interest to them. Building a network of people with interests that align to you is important. Another suggestion would be to think about ways that you can pivot or do things differently, whether that's products or services - but only if they align with your values as a company and still represent you in the best light. If your change of direction doesn't line up with what customers know of you, they won't trust it.

Alastair Banks
Your ideal customers pre-covid may not be your ideal customers post-covid. Take some time to analyse who you need to be targeting now. Your objectives shouldn't be changing too much but as Emily Tippins articulated so well, the way you meet these may need to change. I'm going to say this but digital should really be at the heart of your strategy while we're so limited in terms of what we can do offline. Your website is your most important shop front so putting together something on a shoestring or without taking really good sound advice from experts is like renting a shop in the high street and pulling someone random off the street to kit it out.

Vicki Banthorpe
Be flexible and be willing to adapt and change. The days of a strategy carved in stone are long gone. As others have also said in this feed, talk to peers, colleagues, friends and family. Sometimes the best ideas come from seeing what people have done in other sectors and adapting those into our own marketplace.

Anna Lake
Ask your clients and prospects what they think about your new ideas. Market research is a continuous process and you don't want to waste time and resource on an idea that's not going to satisfy your customers' needs or win you new business. Doing some research is a great way of re-connecting with prospects who may have been part-way through the buying process pre-covid and your current clients will place value on you asking their opinion.

Tunde Awe
To build on insightful comments from other contributors, I'd say do not work in silos so as to compensate for your blind side and personal bias. For example, collaborating with Sales, Supply Chain and Finance guys is often a great source of idea generation. As always, spending listening and/or observation time with the customer/consumer/client is not negotiable. So store and in-home visits are invaluable but these should not replace proper market research if the prize is worth it. For a methodical approach to formulating ideas in unexpected ways, I'd recommend the strategy canvas and other suggestions in 'Blue Ocean Strategy' by Renee Mauborgne et al.

Hannah Walton
As many others have said - communication is the key. Ideas in isolation are rarely successful. Talk to as many clients as possible to find their pain point. Solving this will help solidify their loyalty because they will feel listened to and guarantee a market for your new product or service.

Stefano Pucello
I would recommend to use the Canvas Business model. This nine blocks of this model cover the four main areas of any business: customers, offer, infrastructure and financial viability. In my eyes, it is the perfect tool to test/adapt your business idea quickly and efficiently.

Rachael Wheatley
This is where marketing intersects with innovation, which in turn can be used to generate new products/services, change business models, win more customers, different ways of marketing, etc. Some of the best tools to help formulate new ideas and choose which to take forward are found in creative problem solving tools. The first - really important - stage is to frame the challenge "How might we...." There's no point in generating ideas (whether adaptive or innovative) if they're not focused on the right challenge. Then generate ideas - as many as possible from as many people as possible - followed by choosing the ones you'll take forward, according to agreed filters. You can then put some meat on the bones of that shortlist and decide which ideas to take forward, how, who, when and whether you take these ideas to prospects and clients to hone them. This can all be done quickly, is energising and collaborative.

Caroline van Marle
Careful consideration on how to create a platform for creative ideas to drive innovation is key. Marketing leaders need to ensure sufficient time is carved out for people to reflect and discuss new ideas. The structure of these sessions and the right questions to frame the discussion is also critical.  
If you would like to contribute to a Discussion Topic blog post then join the South West CIM Community LinkedIn Group and look out for new topics which we will post on the first Monday of every month. Put it in your diary!