Nuclear Reactor
Building an audience and voice that's trusted and valued, whether B2B or B2C organisation, is hugely important for brands. Fortunately (or perhaps sometimes unfortunately), the speed at which voice can be delivered to your valued followers and influencers is unbelievably rapid via the various social media channels we have at our fingertips.

This speed affords the possibility for us marketeers to jump on certain events, news, celebrity activities, TV programmes etc and form content and campaigns to quickly relate and relay whatever's just happened to help market our products/services.

You only need to look at the recent reactive marketing which big brands such as ASOS and boohoo linking their advertising to Love Island and Nivea using the Face app. They went nuclear and have been successful strategies to engage and grow their audiences. This is classic reactive marketing.

Only recently there was breaking news piece that I jumped on to help cement a message that we push out frequently to our clients and audiences.

An announcement by the Information Commissioners Office (ICO) that it was going to fine British Airways an eye-watering £183m for its 2018 information security breach and breaking the GDPR, gave an ideal reactive marketing opportunity. Working for an IT, Telecoms and Cyber Security company, Communicate Technology PLC, this story was a gem.

So, What's the message: The message was that if it can happen to the big boys, it can happen to anyone. All businesses need to ensure that things are put in place to help to mitigate these data breaches and, engaging Communicate as part of your company's Cyber Security Strategy can do just that. As we marketeers all know, information breaches (especially when they are made public, which is the forward strategy the ICO are adopting) are not only damaging to a company's bottom line, they are also highly damaging to a brand's value and reputation. An additional argument to get your Cyber Security house in order.

I therefore prepared a comment piece in the form of a blog, citing the various announcements and linking each back to the credible source, published it to our website's news page and then shared it out across our social media channels with relevant hashtags and handles.

Of course, there is the whole 'band-wagon' thought and there does have to be a point. Jumping on something for the sake of it, without a solidly relatable point to your brand, isn't necessarily the best strategy.

However, this is how I see it. I simply see it as a conversation. If you can contribute to the discussion with knowledge and usefulness, then why not join in and react. If you can't contribute with those things then you listen, take that information being imparted and go away and research its validity. You could then comment later or schedule some reflective content on the topic as a post-event reaction.

Provided you are building interesting knowledgeable, rateable and engaging content, reactive content will sit happily alongside and will be an ideal mix. It will also show that, as well as having foundations based on your knowledge and values, you are also aware of current trends, new advances in technologies, new regulations etc. Whatever sector you market, there is always going to be some advent of something to shout about. You just need to ensure you get the right mix. If you jump on the band-wagon too many times, there may be fall-out!
About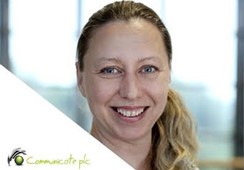 Emily Bentley is the Marketing and Business Development Manager for Communicate Technology PLC.
Communicate was established in 2011 and is a specialist IT, telecoms and cyber security company providing a wide portfolio of services to clients across various industries within the UK and Europe.
A Financial Times' Top 1000 Fastest Growth companies in Europe for three years running, their service offering has expanded over the years to accommodate client needs.
With a specialism in business parks and multi-tenant office spaces, Communicate use a fully managed nationwide network to ensure they can offer the highest level of performance and reliability. That, coupled with the company's vastly experienced team, means that the end user has immediate access to experts, even if the client is unable to offer IT services in-house.
Communicate service clients across the UK from their multiple facilities, including their head quarters at Wynyard Business Park in Tees Valley, Leeds, Bedfordshire and Kent.