Simon Burrow reflects on the importance of innovation within FMCG distribution
Simon Burrow has over 30 years experience negotiating complex commercial agreements between food manufacturers and the big supermarkets including 16 years at Premier Foods before joining TrakRap as Commercial Director. He recently shared with the CIM NW Board his take on the importance of innovation within the FMCG sector, how this has been marketed and the impact Covid-19 has had on the business.

TrakRap describes itself as a pioneer in secondary packaging, how has innovation helped the business?
For the last 10 years TrakRap has been developing an innovative packaging process using digital technology, replacing cardboard cartoners and shrink-wrapping machines at the end of food production lines. This  technology reduces plastic and CO2 usage, lowers overall costs and is funded on a 'servitisation' basis, removing the need for capital expenditure. It is being employed by some of the UK's biggest food manufacturers.
Servitisation?

Servitisation is similar to leasing a car, you don't own the asset, but you pay for the service the car is providing, ensuring your service and maintenance costs are covered. We upgrade and maintain the machine over its life, which means the customer always has the latest technology and most efficient packaging process for their business. A lot of people can be nervous about investing in new technology because of the rate of change and fear of obsolescence. Because of the way we operate our model, it means the customer is protected from the risk and cost of obsolescence.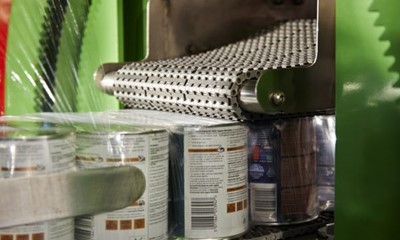 Innovation sits at the very core of our business model. By taking the latest Industry 4.0 manufacturing technology, we enable clients to use fewer resources, and deliver significant environmental improvements. Typically the process uses c.70% less plastic, c.90% less energy and delivers cost savings of c.20% without the need for any capital investment.

Why is Innovation even more important now?
The FMCG market is becoming ever more competitive. As traditional supermarkets struggle to compete with the German discounters' low cost business model, manufacturers are being put under extreme pressure to reduce costs. Innovation is vital. It has a direct impact by reducing genuine waste, without lowering product quality and thereby lowering costs to allow FMCG manufacturers to maintain their distribution within the UK supermarkets.

What has been the biggest challenge in getting TrakRap off the ground?
The combined impact of food manufacturers' inherent reticence for change, uncertainty over the impact of Brexit and then the COVID pandemic making satisfying increasing consumer demand a priority, has put process improvement to the bottom of manufacturers' priority lists. There is strong demand for the TrakRap innovation but the long term impact of COVID and Brexit need to be fully understood by manufacturers to help them to commit to process change.
How have you built awareness and created demand?
A combination of personal contact with a targeted C Suite network, targeted e-shot campaigns, selected trade show attendance, advertising in leading industry journals, web site and professional social media posting, have been the core elements of the marketing campaign. Targeted campaigns have been focussed on those potential users most likely to benefit the most from the innovation. It been a classic case of marketing, raising awareness building relationships, to create the right environment for somebody to want to buy the product and service, rather than trying to hard sell.
What impact has Covid-19 had on your organisation?
Like many other businesses, Covid has made a massive impact on our business as it has put process change to the bottom of manufacturers priority lists. We have realigned our marketing programme accordingly, re-routing investment from trade shows into advertorial and social media communications to maintain / build awareness thereby keeping our offering front of mind for potential new clients and ensuring that when change is required we are at the forefront of the decision making process. In addition, we have furloughed staff to preserve cash during the slow trading period
How important is the brand to the business?
The brand is very important in so much as TrakRap needs to be seen as THE low cost, low carbon, zero investment secondary packaging system. We have re branded the product as 'GreenRap' to accent the environmental benefits of the substrate and have created a series of specific applications for different food types under the 'TrakStak', 'TrakTray', and TrakPak' sub brands.
What advice would you give to graduates or early-career professionals?
Outside of the current COVID limitations, there is no doubt that the digital economy and the 4th industrial revolution are the future for manufacturing across most industries. Within food production, there is significant opportunity for process improvement and as global warming and cost pressures get every greater, the need for waste reduction through innovation and technology can only grow. New technology that has a positive impact on the environment needs to have both industry and consumer support and for this reason, it represents a major opportunity for younger 'tech savvy' and 'eco aware' marketers. It will be important to have a solid and broad understanding of the issues and benefits surrounding smart manufacturing, climate change, Lean Enterprise and Servitisation funding models.
How can the Chartered Institute of Marketing support you?
The CIM has direct exposure with marketers in all industries. Focussing editorial and case study examples on industries such as ours is important. It highlights how modern technology is disrupting traditional thinking and delivering significant benefits both for commerce and the environment. It is very supportive in building awareness of, and attracting new talent into sectors that might not be top of mind for early career stage marketers.
Moving innovative and environmentally friendly production processes, rather than just the resultant product, into the consumer field of vision is really important in driving change across the FMCG industry. Ultimately supermarkets only adopt innovation that the consumer is asking for - we need to make manufacturing innovation a consumer benefit.
Simon Burrow was interviewed by Simon Poyser, Vice Chair Events, CIM NW Board.