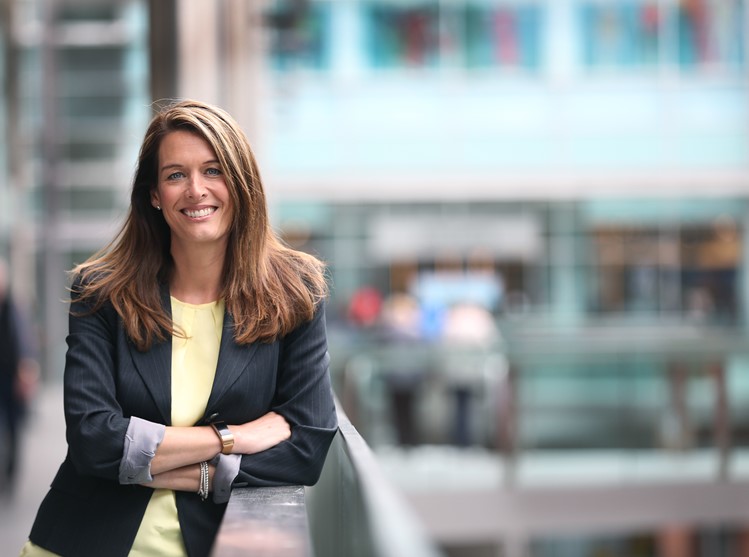 This month we caught up with Donna Howitt, Place Strategy Director at Liverpool ONE, about the importance of innovation on the road to sustainability, the CSR pillars that the north west community, as well as the nation, hold dear, and how story telling is a crucial element to getting these important band messages through to the community as well as the teams at Liverpool ONE.  
Tell us about Liverpool ONE and its role in Placemaking and its importance right now.
As we manoeuvre through Covid19, placemaking has never been so important. There's no doubt there has been a movement to shop online - driven through lockdown restrictions and safety concerns. If it is about a transaction then arguably this can be achieved online, however it isn't about consuming products it is about consuming experiences.
Humans are social creatures; for mental health reasons alone people want and need to come together, and they will choose places to come together based on environment and enjoyment. Clean, safe and secure must be a given - entertainment, reward and added value is achieved through placemaking. Liverpool ONE sits at the heart of the community as a place where shared experiences happen – a place to shop, eat and feel good.
What is it about the NW that helps brands like Liverpool ONE thrive? 
The Northern Powerhouse has seen waves of investment and unleashed a huge amount of untapped potential. The relocation of the big media organisations to the North has enabled the media to talk about the region and for its voice to be heard which has been advantageous in many ways in terms of businesses and communities along with a new wave of creativity. Of course, there are still challenges with connectivity, but we have two great cities in Manchester and Liverpool not forgetting the regions smaller cities and towns too. The regions strength in diversity means collectively there is great potential plus it's more affordable than the South East bringing with it talent and exciting inward investment – you won't find many places to rival the North West.
The pandemic obviously brought with it many challenges for Liverpool ONE|, can you tell us a little about them and the role that an innovative approach to marketing has or will play to allow you to meet the challenge?
It's been a huge challenge for everyone, whichever boat you have been in there are challenges: furloughed teams feel disconnected and working teams feel under pressure. Understanding people and keeping in touch with everyone is key. Internally at Liverpool One, with 170 brands across the estate, we'd already developed an app to aid communication, and we temporarily changed this to Liverpool One at Home – with 2500 active users. We were obviously unable to deliver our face-to-face quarterly conferences, so we moved them online, with virtual 2-way dialogue, quizzes and recipes enabling everyone to feel informed and engaged.
We've also recently undertaken an alignment of our common goal and purpose. after numerous workshops (external and internal) our simplified vision is to 'make people smile'. Inclusive and universal to each and every stakeholder, employee and assets we can ask the simple question 'does this make people smile?' from the clean team to the visitor experience itself.
I have often been asked the question 'will online shopping be the death of retail?' and my answer is always absolutely not - but there is a necessity to keep pace with change and what customers need – which right now is variety. Whilst the media reports brands disappearing from the high street, the emphasis on variety has witnessed exponential growth in smaller start-ups, social media brands and 'pop up' experiences that don't want to be pinned down by 5-10 year leases - something we haven't see before and we've had to adapt.
Liverpool and the North West's young creative people want to sample new brands, they're perhaps more fickle, get bored easily, want a change and seek shareable content and so we must act as enabler to come in and interact with online - something that Liverpool ONE is familiar with and has been for a very long time, even before Covid. We have delivered pop up's ranging from fashion, to food to cars. Our strategy for success is to connect people and brands in an authentic way and this is delivered through innovation.
How has your role/plans changed or pivoted?
I set out in 2007 as Marketing and Business Performance Director to make Liverpool ONE a household name, which we successfully achieved, but now it Is far more than that. It's about reputation.
Everything centres around people and the sense of place.  In February this year my job role has changed to Place Strategy Director to lead on the development, communication and implementation of strategic initiatives and growth plans. Encompassing corporate values, brand, marketing performance, place initiatives, community and crucially the development of key strategic partnerships.
Yes, it is marketing, but it encompasses innovation, events and enlivenment. Placemaking is about experience and reputation. My role also brings together commercialisation, business performance and customer service. It eradicates silo's and ensures the sum is far greater than the parts.
Has Sustainability been a positive driver for Innovation and if so can you share some examples?  
Place strategy includes a commitment to the community and CSR sits firmly here. Liverpool ONE is not just about shopping; its 42 acres with a strong community at its heart – both visitors from the Liverpool City Region and wider North West region and beyond. People genuinely want to make sure that they look after 'their place' and 'do good' and with 30 million visits there is some real good that can be done.
 There are 3 main pillars to our CSR
1) The Liverpool ONE Foundation
Set up pre-pandemic but not talked about as much as perhaps we should have, but never so important as now – the foundation is primarily about supporting young people under the age of 25 and their mental health creating a halo effect of wellbeing.
2) Environment / Greener Future
Tackling how we reduce or 'off set' our carbon emissions from our Green Living Wall to our partnerships with Liverpool City Council and Mersey Forrest. We have 80,000 bees in the bio-diverse Chavasse Park and we make our own honey.  It is also about communicating why our escalators run slower – they aren't faulty – going slower, saves energy.
3) Empowerment
Empowering people to tell more people – how they can help, for example on World Environment Day – we will bring together park rangers and families to learn about bugs and bees, creating a day out with a difference and a take home.
Is Innovation even more important now than ever and how do you get it over the line? 
"Innovation is important for any sustainable business. Throughout the 13 years at Liverpool ONE there have been so many examples of innovation – Tickle the Ivories busking festival is a particular favourite – it's authentic and authenticity is important – other events have ticked all the KPIs and driven footfall but they're not as sustainable. Tickle the Ivories entertains with real musical talent, music is in Liverpool's DNA and stands the test of time.
To get it over the line you must understand people and share the story that will impact on their objectives, breaking down the important information that's relevant to each group of people you are talking to. A board of directors' report will highlight commerciality whilst team presentations will tell a softer story about the role each member plays."
What piece of advice would you give to other marketers to support marketing & innovation?
"Marketing has always been about understanding consumers. Change is always going to happen, and the pandemic has sped up the pace of change. It's forced changes such as apps to order food, to click and collect which previously would have had pilots and A/B testing – which I am not saying isn't important, but it is too often black and white – it's one or the other – whereas in reality it's about choices.
The world doesn't stand still which is exciting and why I do what I do. Always think customer first. We are people trying to deliver when there is no rule book. You have to have an interest in lifestyle. It's not about gimmicks and short-term initiatives it's born out of demand."
How important in networking? How has networking changed? 
"Fundamentally the more connected we are, the better support we get, so networking is crucial. The pandemic meant we changed as people and as a city and has forced us to use tech better; things no longer have to wait for everybody to be in the same room. At the beginning of the pandemic no one had experienced anything like it so we turned to each other to share concerns and learnings. Liverpool City Council provided weekly updates which were really valuable and brought business partners together.
Connecting digitally obviously doesn't replace 'seeing people' but it has given a greater focus and removed some of the time pressures of networking."
Can you recommend any podcasts/books, share any tips?
"Great marketing works best when people/teams work together, so my top tip for all marketers especially junior ones would be that "you can't possibly deliver on your own". Learning from people around you is key to success; top performers know their strengths and plug gaps with expertise from their teams and networks.
A great read that I always go back to is 'Damian Hughes 5 steps to a winning mindset'. Using the STEP approach
S - Simplicity: Keep Your Story Simple.
T - Thinking: Provide easy tripwires to trigger positive reactions.
E - Emotions: Play on Your Audience's Emotions.
P - Practical - Be Practical in how your deliver your message
It's fair to say, I wasn't an early adopter of podcasts, but have found myself listening more during lockdowns. I have said before that marketing is about people, so lifestyle podcasts are particularly useful to help understand people – what's new, what are people talking about in everyday life. It's not research just absorbing the world around us. Listening to local podcasts is great too for exploring what is happening on the ground."
What importance is placed on marketing and particularly CIM in your workplace?
"As with any successful organisation there's a huge emphasis on Marketing at Liverpool ONE, central to realising our core objectives and is crystalised in the teams that report to and work within marketing.
Marketing probably has a job to do around marketing what marketing actually is. It is intrinsically deeper than the more obvious parts it is known for – whether it's visitor experience or commercialisation - there's a role to play in marketing.
When we recruit for new team members, our adverts include our preference for candidates to have CIM membership, I think many people have more marketing experience than they might realise and it's about much more than a job title or a role. If you are involved with the CIM you have a genuine passion for marketing and if you have that genuine passion, you are a marketer."
This interview was conducted by Rachel Emson, Managing Director at VIVID and Vice Chair of Communications for the CIM's North-West Board