Spotlight On… Katy Sayburn, CEO at durhamlane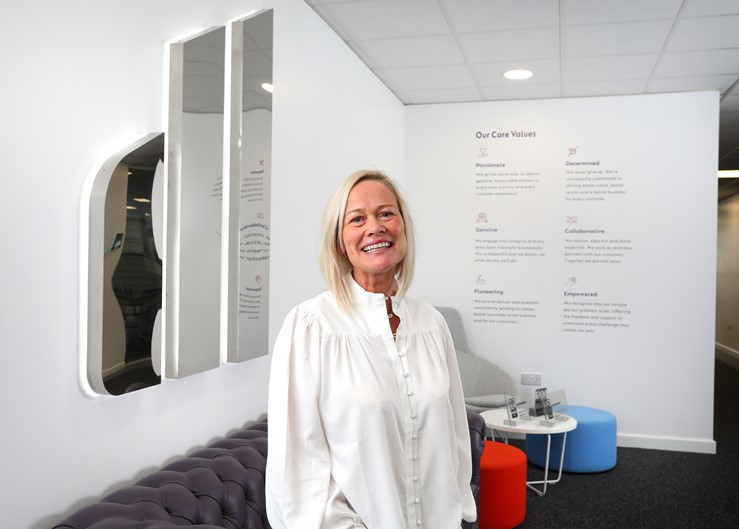 Katy Sayburn has mastered the art of taking calculated risks to transform businesses into something that resonates with customers. At Hotel BH Mallorca, she turned a struggling chain of hotels into vibrant destinations that drew twenty-somethings from across the world. Now, for what she calls 'phase three' of her career, she has moved back to her home in Hexham to become CEO at durhamlane, where she'll be driving the sales and marketing company into the eight figures of revenue and doubling headcount in just a few years.
What has your own experience of the relationship between marketing and sales been like?
When you get it right the results are powerful. Historically, there could be a misalignment between sales and marketing. Often this is because of a lack of understanding around metrics and language. For example, marketers talking about impressions and click-through rates as measures of success will hold little value to sales people that are behind on quota. Similarly, sales people that fail to feedback on MQL progress will alienate marketing teams. We need to unify the two to drive the best results and combine the language so that everyone can see how things work hand in hand.
How do we get marketing to the boardroom?
The biggest challenge for marketing at board level is communicating its value to non-marketing stakeholders. Marketers need to make clear the nuances, behind the scenes work and time required to deliver successful marketing outcomes.
Marketers should seek to articulate business outcomes in language that all board members can understand. For example, talking in terms of contribution to revenue, EBITDA, ROI and Cost of Customer Acquisition can help improve perceived credibility. One measure of success, in particular, that we see growing in popularity at board level is 'Pipeline Velocity', where you measure the speed at which marketing-generated deals move through the sales process based on KPIs.

This gives a more holistic, revenue-centric measurement for marketers to report at board level, rather than fixed ROI at any moment in time (which is often not the whole story, as marketers are always investing today to win tomorrow). It also puts more focus on the levers that can be pulled from a joint sales and marketing perspective.
With such a rapidly changing industry and digital marketing hugely accelerated over the last 12 months, how will fast growing companies keep up with the demand for talent?
The marketing industry has grown significantly over the last few 12 months, which has presented a number of opportunities from a talent acquisition perspective. For example, mandated remote working is effectively opening up prospective talent pools to the whole of the UK. The industry is now more accepting of flexible working and as a result, businesses are growing at pace across the UK.
Whilst this is a huge opportunity for business, the most important thing we can do as an industry is to not lose sight of our culture and our people. Their onboarding, development and skills need to be top priority. Whilst there is a push for more remote working and a definite shift to hybrid, when it comes to marketing, there isn't much that can beat the office environment for creativity and innovation and our industry needs to continue to innovate more than ever.
Why is marketing and sales an exciting industry to join now?
People are really starting to see marketing and sales as one entity. Over the last year we've seen a real shift in the integration of marketing and sales to create a cohesive business function and consistently drive growth. The impact of new technology, digitisation and the need for marketing by every company, as they now build back and recover, or make the most of new market opportunities, makes it a really exciting time to join the marketing industry.
What advice would you give to people looking to shift between sectors or enter the world of marketing?
Skills are always transferable so don't be afraid to make a change. It can be incredibly 'scary' to leap out of your comfort zone, but you always propel yourself forward by going through the process. I was heading up a tour operator overseas when I was headhunted to launch a start-up hotel chain. This was totally out of my comfort zone - I'd never even worked in a hotel! To make it even more interesting, Spanish was the first language and there were very aggressive growth expectations. There's always a solution to a challenge – listen to your people, learn what you need to, ask the questions you can't answer and get your team aligned to the vision. The team will make or break the business whatever sector you enter - your responsibility to them is to turn up and be the best you can to facilitate excellence.
I recently switched again between sectors when I moved back to the UK. I joined durhamlane as CEO after years working in the travel industry. I was ready for a new challenge and to move to what I consider the 'third phase' of my career. You know yourself and when you're ready for something new – be bold and trust your instinct. Great marketers sit in every sector.
The marketing industry is facing a huge skills shortage, what can marketers do to attract the best people to their teams?
My roles so far have taught me the importance of effective people management as a driver of growth and client retention. I've lived successes by looking after people and building the culture that customers want to buy into. Employer brand has always been key, but even more so now. Marketers need to showcase the real company personality and culture, values and what you really stand for. Going way beyond the benefits list and training opportunities, people really want to work for a company they can buy into, where they can understand the ambition and vision.
How do we get more diverse marketers, including women in leadership positions?
A lot of women get to senior management roles but often don't believe that they belong in the boardroom roles. If a person can work their way up to a senior management position, they have all the talent they need to be in a c-suite role.
Role models, mentors and coaches are key to illustrating to women that there are no limits to what they can achieve – when you see someone 'live' your career goals, that's a massive leap towards the belief that you can do it too.